The Ultimate Accuplacer Math Course (+FREE Worksheets)
The top comprehensive course for assisting folks to get ready to take an Accuplacer New Generation Math examination!
Do you desire an online course that is free of charge but will still aid you in getting top marks on an Accuplacer Math examination? If so, this is the place!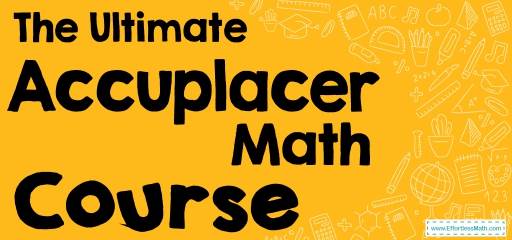 If you're seeking the ideal, comprehensive Accuplacer Math course for improving your know-how in mathematics topics and getting it all done by test day, stay right here.
This course is the best and most inclusive for the topics on the Accuplacer Math exam.
This fantastic Accuplacer Math course will be all you need to succeed in the Accuplacer Math exam.
The Accuplacer Math course as well as all the other kinds of Effortless Math Education sources get utilized by thousands of folks who plan to take the Accuplacer test every year.
It aids in reviewing the basics and renewing your math skills, and you'll know where to study more so you can attain a great grade when taking an Accuplacer exam.
Learning occurs at your speed since there are not any schedules! Each of the lessons encompasses notes, illustrations, practice exercises, and other activities to help folks learn as well as understand each concept with ease.
There is also a FREE
Learn how to prepare for the Accuplacer Math assessment:
The Absolute Best Book to Ace the Accuplacer Math Test
Accuplacer Mathematics Complete Course
Fractions and Decimals
Real Numbers and Integers
Proportions, Ratios, and Percent
Algebraic Expressions
Equations and Inequalities
Linear Functions
Exponents and Radicals
Polynomials
Geometry and Solid Figures
Statistics and Probability
Functions
Quadratic
Matrices
Complex Numbers
Trigonometric Functions
Take a FREE
Looking for the best resource to help you succeed on the Accuplacer New Generation Math test?
The Best Books to Ace the Accuplacer Math Test
Related to This Article