What is a Good ACCUPLACER Score?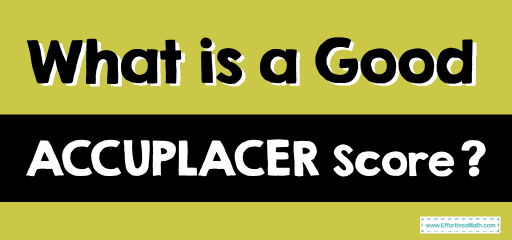 Are you ready to take the ACCUPLACER exam, but you do not know what a good ACCUPLACER score is? To find the answer to this question, read this article.
The Absolute Best Book to Ace the Accuplacer Math Test
Many schools use ACCUPLACER exams to assess student placement levels for university-level courses. These tests do not have a fixed passing score, but the scores required depend on the institution and the course in which the student wants to take the test. All ACCUPLACER test scores are presented in a scaled scoring system. Different tests have different scores:
The Writing, Reading, and Math ACCUPLACER tests have a score range of 200 to 300.
The WritePlacer Essay ESL has a score range of 1 to 6.
The WritePlacer Essay has a score range of 1 to 8.
The ESL ACCUPLACER tests have a score range from 20 to 120.
The Math, Reading, and Writing Accuplacer tests are divided into 5 score bands: 200-236, 237-249, 250-262, 263-275, and 276-300.
Because the exact score requirements vary from college to college and from class to class, it is important to check the admission requirements of the school and the courses you are interested in taking so, you find out how well you need to perform to take the classes that you want.
According to what was said each university determines what the "good" ACCUPLACER test score is. Given this, our general recommendation is that you should target at least 237 or higher.
Looking for the best resource to help you succeed on the ACCUPLACER Math test?
The Best Books to Ace the Accuplacer Math Test
Related to This Article