How long Is the ACCUPLACER Test?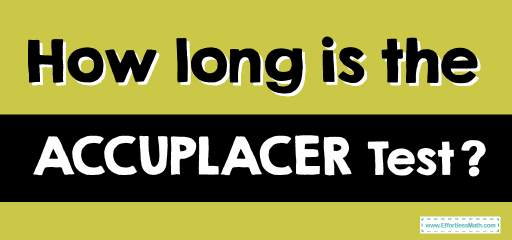 If you are considering college and you know that you have to take the ACCUPLACER exam, it is important to know how long the exam will take? Join us to answer this question.
The Absolute Best Book to Ace the Accuplacer Math Test
The ACCUPLACER is a computerized placement test, designed to assist with the accurate placement of students into classes that fit their skill level. ACCUPLACER utilizes the latest computer-adaptive technology, meaning that the questions you see are based on your skill level. Your answer to each question determines the difficulty of the next question, so it is important to think before choosing the answer to each question.
The main ACCUPLACER test has 10 sub-tests. All of these subtests include multiple-choice questions, except for WritPlacer, which is a written test. In the Accuplacer test, there are five main sub-sections as follows:
Quantitative Reasoning, Algebra, And Statistics (QAS)
Advanced Algebra and Functions
Reading
Writing
The number of ACCUPLACER questions varies depending on which ACCUPLACER you are taking. There may be about 12 questions or 40 questions.
This test is completely computer-based, and there is no time limit for multiple-choice sections. (Some schools may limit the time it takes to write the essay). On average, you can expect to spend about 45 minutes per section and plan for about three hours. After answering the question, you can no longer go back and review it or change your answer.
Looking for the best resource to help you succeed on the ACCUPLACER Math test?
The Best Books to Ace the Accuplacer Math Test
Related to This Article