5 Best Accuplacer Math Study Guides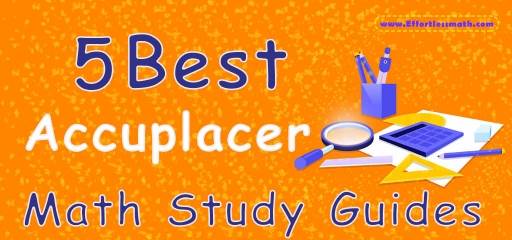 One of the tests that colleges take to place students in different courses is the Accuplacer test. It covers various subjects such as English, Math, and much more.
If you are a student worried about the math section of the Accuplacer test, you no longer have to. Here are the top five Accuplacer math study guides that will help you pass this test:
Final Words
These are the five best Accuplacer math study guides. By getting any book from this list, you can significantly improve your skills in the subject. That is why we suggest you go through it carefully.
Best Accuplcer Math Prep Resource
More from Effortless Math for Accuplacer Test…
What skills are required for the Accuplacer Math Test?
find the answer here: What Skills Do I Need for the ACCUPLACER Math Test?
Need an Accuplacer Math Worksheet to help you measure your exam readiness?
Check out Accuplacer Math Worksheets: FREE & Printable
Is Accuplacer Test hard or easy?
We answer this question in this article: Is the ACCUPLACER Test hard?
The Best Books to Ace the ACCUPLACER Math Test
Have any questions about the Accuplacer Test?
Write your questions about the Accuplacer test or any other topics below and we'll reply!
Related to This Article