What Happens If You Don't Pass the STAAR Test?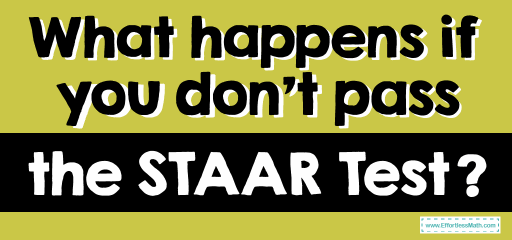 If you attend public schools in Texas, you may want to know that what happens if you do not pass the STAAR test? You can get your answer by reading this article. So join us!
The Absolute Best Book to Ace 8th Grade STAAR Math Test
The State of Texas Assessments of Academic Readiness, or STAAR, is a set of standardized tests that elementary and secondary school students in Texas must pass to progress to the next level and graduate from high school. Students in grades 3 to 8 in Texas public schools must take at least two STAAR tests each year, depending on the grade level.
Students in grades 5 and 8 should pass reading and math tests to be promoted to the next grade. That is, all 5th graders must pass math and reading to enter 6th grade, and all 8th graders must pass math and reading to enter 9th grade. These students will have three test opportunities to take their reading and math tests. The first performance is in early April, the second in mid-May, and the third in late June.
After entering high school, the student must enroll in the relevant courses to be able to take the five required EOC tests, which are as follows: Algebra I, English I, English II, Biology, and US History. After completing the relevant course, you will take the EOC STAAR test. Each STAAR test is delivered three times a year on computer or paper in the fall, spring, and summer, giving you chance to retake any tests you did not pass on your first try.
The Best Books to Ace 8th Grade STAAR Math Test
Related to This Article