How to Prepare for the 8th Grade STAAR Math Test?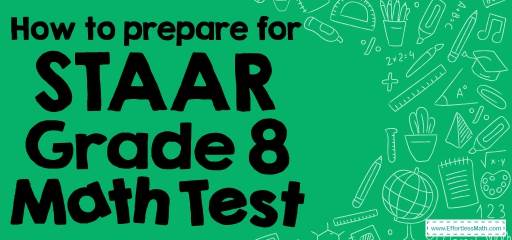 The State of Texas Assessments of Academic Readiness (STAAR) is developed under the supervision of the Texas Education Agency and is taken by all public school students in Texas, grades 3–12. The tests measure the progress of students from 3rd grade to 8th grade, as well as high school.
STAAR is the state's testing program and is based on state curriculum standards in core subjects including:
In high school, students take end-of-course STAAR exams in five high school subjects:
Biology,
English I,
English II,
U.S. History.
Students take STAAR tests in the spring. The number of tests a student takes each year will depend on what grade he or she is in. Most students will have two to four testing days during a school year.
The Absolute Best Book to Ace the 8th Grade STAAR Math Test
How to score your test?
The basic score on each STAAR test is the raw score, which is simply the number of questions correct.
On the STAAR test, each subject test should be passed individually. It means that you must meet the standard on each section of the test. If you failed one subject test but did well enough on another, that's still not a passing score.
There are four possible scores that you can receive on the 8th Grade STAAR Math Test:
Do Not Meet: This indicates that your score is lower than the passing score. If you do not pass, you can reschedule to retake any of the STAAR Math tests. Students have three opportunities to retake the test(s) and receive remedial help if they don't pass.
Approaches: This level was previously known as Satisfactory. This score indicates that your score meets the standard of the test. A student achieving Approaches Grade Level is likely to succeed in the next grade or course with targeted academic intervention.
Met the Standard: This indicates that your score meets Texas state standards for that subject. Students in this category generally demonstrate the ability to think critically and apply the assessed knowledge and skills in familiar contexts.
Commended Performance: This indicates that you've mastered the skills that would be taught in your grade.
There are approximately 40 questions on 8th Grade STAAR Mathematics. Similar to other subject areas, you will need a minimum score to pass the Mathematics Test.
There are approximately 40 raw score points on the STAAR math test. The raw points correspond with correct answers. This will then be converted into your scaled score. Approximately, you need to get 28 out of 40 raw scores to pass the 8th Grade STAAR Mathematics.
To score your STAAR Mathematics practice tests, first, find your raw score. There were 40 questions on each STAAR Mathematics practice test in this book. All questions have one point.
Use the following table to convert your raw score to the scale score.

The Absolute Best Book to Ace the STAAR Mathematics Test
Best resources to prepare for the STAAR Mathematics test
There are many prestigious STAAR books and study guides that can help your students prepare for the test.
Most major test preparation companies have some offerings for the 8th Grade STAAR Math, and the short-listing of the best book ends up being a puzzling phenomenon.
There are also many online STAAR courses.
If your students just started preparing for the STAAR course or test and you need a perfect STAAR prep book, then Grade 8 Math for Students: The Ultimate Step by Step Guide to Preparing for the Grade 8 Math Test is a perfect and comprehensive prep book for you to master all STAAR topics being tested right from scratch.
It will help your students brush up their math skills, boost their confidence, and do their best to succeed on the 8th Grade STAAR Test.
This one is an alternative book:
You can also use this great prep book:
If your students just need a STAAR workbook to review the math topics on the test and measure their exam readiness, then try: "Comprehensive STAAR Grade 8 Math Practice Book 2020 – 2021: Complete Coverage of all STAAR Grade 8 Math Concepts + 2 Full-Length STAAR Grade 8 Math Tests"
This bundle contains 8 comprehensive 8th Grade STAAR Math learning resources to help test takers prepare for the STAAR Math Test. This product is the only resource your students will ever need to ace the STAAR Math Test.
If you think your students are good at math and just need some STAAR practice tests, then this book is the perfect STAAR test book for you:
5 Full-Length STAAR Grade 8 Math Practice Tests: The Practice You Need to Ace the STAAR Math Test

You can also use our FREE STAAR worksheets: 8th Grade STAAR Math Worksheets

Have a look at our FREE STAAR Worksheets to assess your students' knowledge of Mathematics, find their weak areas, and help them learn from their mistakes.
STAAR Grade 8 Math FREE Resources:
Looking for the best resources to help your student succeed on the STAAR test?
The Best Books to Ace the STAAR Test
Related to This Article