What does TSI Test Stand for?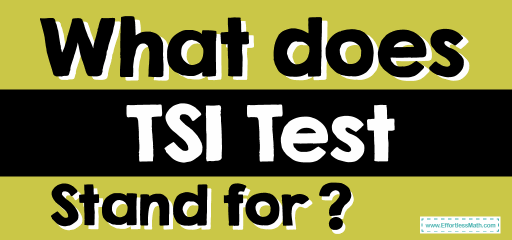 The TSI (or TSIA) stands for Texas Success Initiative Assessment, which is a state assessment test to determine a university readiness. This assessment is part of the Texas Success Plan Initiative enacted by the Texas State Legislature to assess prospective college applicants' academic readiness.
All Texas College entrance students are required to take the TSI unless they are exempt under certain conditions. Student scores on this test show whether the student needs remedial classes.
The Absolute Best Book to Ace the TSI Math Test
The TSI Assessment includes three sections: Mathematics, Reading, and writing. The TSI consists of multiple-choice questions, although the writing section includes an essay question. The assessment is computer-adaptive, meaning that the difficulty level of the questions varies according to your performance. This test is not a scheduled test, although for most students it takes between three and five hours to pass the test. Students may decide to complete the entire test in one day or take the sections individually.
The TSI scores immediately after the exam. You will receive an unofficial copy of your points via email. To pass this test you should get a score of at least 350 in Mathematics and 351 in Reading. The writing section requires a minimum score of 4 on the essay section combined with 340 on the multiple-choice section. If the multiple-choice section is less than 340, you may pass with an ABE diagnostic level of at least 4 and an essay score of at least 5.
The Best Books to Ace the TSI Math Test
More from Effortless Math for TSI Test …
Are you very anxious to take the TSI math test?
Do not worry! Tips in the Top 10 Tips to Overcome TSI Math Anxiety will help you learn solutions to test anxiety.
Haven't you found the TSI math overview anywhere?
Overview of the TSI Mathematics Test is exactly what you need!
The Best Books to Ace the TSI Math Test
Have any questions about the TSI Test?
Write your questions about the TSI or any other topics below and we'll reply!
Related to This Article