The Ultimate CHSPE Math Course (+FREE Worksheets & Tests)
The best comprehensive Course for Acing the CHSPE Math examination!
Seeking the greatest online Course to improve your chances as you get ready for taking a CHSPE Math exam? If so, stop right here!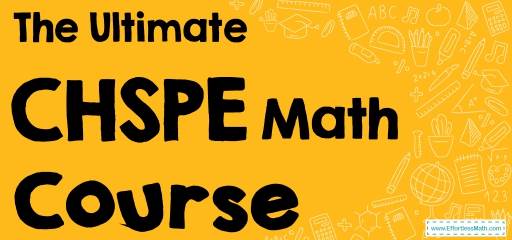 You're in the correct spot if you want a FREE comprehensive CHSPE Math Course to aid you in learning all the proper math concepts required to understand by the test date.
This is a complete online course involving all the proper concepts for CHSPE Math.
This ideal CHSPE Math Course is all you'll ever require if you want to do well when taking a CHSPE Math test.
Thousands of pupils who took the CHSPE exam have taken this Course for the CHSPE Math exam as well as used additional Effortless Math Education sources.
The course covers the basics, renews your skills in math topics, and helps you find out where you are weak or strong so you can score a top grade when taking a CHSPE test.
Learn the basics at your speed, since there's no schedule to follow! Each lecture has notes, pertinent examples, lots of exercises, and other activities to aid you in learning and understanding all the concepts with ease.
There is also a FREE
The Absolute Best Book to Ace the CHSPE Math Test
CHSPE Mathematics Complete Course
Fractions and Decimals
Real Numbers and Integers
Proportions, Ratios, and Percent
Algebraic Expressions
Equations and Inequalities
Linear Functions
Exponents and Radicals
Polynomials
Geometry and Solid Figures
Statistics and Probability
Functions
Take a FREE
Looking for the best resource to help you succeed on the CHSPE Math test?
The Best Books to Ace the CHSPE Math Test
Related to This Article