The Ultimate TABE Math Course (+FREE Worksheets & Tests)
The best comprehensive online course if you want to ACE the TABE 11 / 12 Math test!
Searching for the perfect online course so you'll be ready to take a TABE Math exam? Then take this one!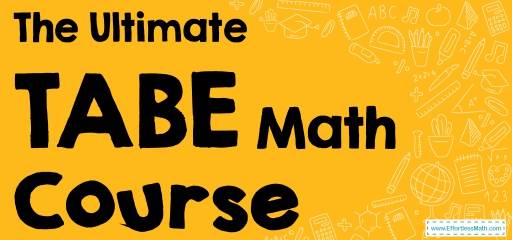 Do you want an online TABE Math course that won't cost you a thing, yet will aid you in learning all the TABE Math subjects before the testing date? Then take this one.
This complete course covers every conceivable TABE Math subject or concept.
This wonderful TABE Math course is all anyone needs to be successful with a TABE Math exam.
This course for the TABE Math exam as well as additional Effortless Math courses is utilized by thousands of folks who take the TABE exam annually to help get a review of core subject matters, renew math skills, learn your weaknesses and strengths, and attain your top scores when taking a TABE exam.
Learning happens at your speed since there are no required schedules! Every lecture comprises notes, pertinent examples, great exercises, and other activities to aid people in mastering every one of the concepts for TABE Math easily.
Just do as it explains for each lecture and you'll ace it when you take a TABE Math examination.
The Absolute Best Book to Ace the TABE Math Test!
TABE Math Complete Course
Fractions and Decimals
Real Numbers and Integers
Proportions, Ratios, and Percent
Algebraic Expressions
Equations and Inequalities
Linear Functions
Exponents and Radicals
Polynomials
Geometry and Solid Figures
Statistics and Probability
Functions
Looking for the best resource to help you succeed on the TABE Math test?
The Best Book to Ace the TABE Test
More from Effortless Math for TABE Test …
What do you think about having a good study plan for the TABE math test?
If you also need a study plan, do not forget to read the article Top 10 Tips to Create a TABE Math Study Plan.
Have you been told that it is difficult to prepare for the TABE math test?
We prove to you that you can succeed in the TABE math test by just following a few simple steps: How to Prepare for the TABE Math Test?
Do you need more practice resources to prepare for the TABE math test?
Do not miss our free worksheets !: TABE Math Worksheets: FREE & Printable
The Perfect Prep Books for the TABE Math Test
Have any questions about the TABE Test?
Write your questions about the TABE or any other topics below and we'll reply!
Related to This Article