A Comprehensive Collection of Free TABE Math Practice Tests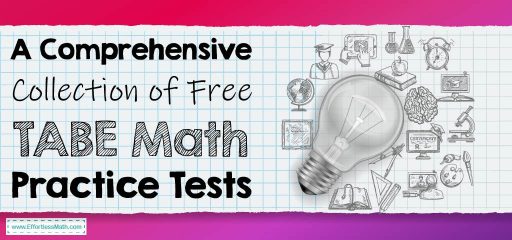 The TABE is a place exam which is known as the Test for Adult Basic Education.
This standardized basic skills assessment is used to measure a person's skill levels in reading, math, and English.
It is especially for those whose first language is not English and is mainly used in academic and workplace environments.
There are 195 multiple-choice questions on the TABE test. The Math Computation part contains 25 questions and you have to complete them in 15 minutes.
The next part is Applied Math with 25 questions that must be solved in 25 minutes.
The good point is you cannot fail the TABE and the score you received is valid for one year for Continuing Education admission.
The Absolute Best Book to Ace the TABE Math Test
The TABE is generally not considered challenging, especially if you have an adequate amount of studying.
First and foremost, the mathematical portion of TABE contains a formula sheet that are relating to geometric measurement and certain algebra concepts. The main purpose is that you just focus on the application, rather than the memorization, of formulas.
There is an appropriate calculator displayed on the screen for certain questions. But if you prefer to use a handheld calculator, you have to refer to a list of non-programmable scientific calculators that can be used.
How to Prepare for the TABE Math Test?
Study with the Best Resource: Nothing is more helpful than studying to learn materials. Many books and websites are available to help you be proficient in the TABE math test. But you have to find books that are filled with practices, examples, and reviews.
Their content must be at the same level of difficulty as the actual exam to overcome any type of questions. Online resources provide classrooms, practice tests, flashcards, and many more items used to take the exam successfully.
Manage Time: Time is gold and you have to use it in the best way to complete the exam. You may face some challenging questions that take more time to complete.
Sometimes you may not recall the formulas and it is better to leave the questions and come back later. These techniques require practicing before walking through the exam.
Get Help: Math is the challenging part of many exams and you may need someone to help you learn the essential concepts. If you decide to prepare with classes or tutorials, it is better to find the most reliable, literate instructors.
Take Practice Exam: The best way to get familiar with the exam style and content is by taking plenty of practice tests. Try to do them when you are fully learned the materials. That way, you will guess the score you may receive on the actual test.
9 Best Websites for TABE Math Practice Tests
This helpful website generally works on the math section of many tests and entrance exams. It allows you to take free TABE math practice tests and know the exam format and content.
Moreover, you will have access to a wide range of great books that contain practice tests with answer keys, sample questions, and reviews.
Another benefit of this website is finding video lessons for many mathematical concepts. It also contains some formula sheets that you may need for the exam.
By taking benefit of this website, you will be well-prepared to answer any type of question confidently. It provides several free practice tests for all parts of TABE including Math Computation and Applied Math. The form and difficulty level of their questions is what you may encounter on the actual test.
It also consists of helpful guidance to have better performance and take the exam with less stress. You may see another section that answers some frequent questions about TABE.
It is one of the popular websites that covers the math portion of exams. First, you can study its exam description to know the feature of the test. It provides free math practice tests to take and get acquainted with the form and type of questions.
Another production of this website is the flashcards used for memorizing formulas and difficult subjects. It offers some TABE courses that contain videos, flashcards, lessons, and practice questions. All of them are available with the aim of teaching materials in the best ways.
Whatever you need to be successful on the TABE test is provided on this website. There are several mathematics practice questions for different levels. So, you can start from the easiest to reach the most challenging one.
You have access to free flashcards to review key materials and speed up your learning process. It has study guides used to have adequate information about all parts of the exam.
Another feature of this website is its discussion section where test-takers share their experience and answer each other's questions about the tests.
This reliable website provides you with useful information about every detail of the TABE test. As you may encounter questions of any type, there are some tips and tricks to help you master them.
It offered plenty of free math practice questions that are necessary to affiliate with the difficulty level, style, and content of questions. The more you practice, the less anxiety you will have during the test time.
The information you have to know about the version, level, test length, test time, and question type of the TABE test is packed on this website. It covers all the subjects of the test and provides several practice tests for every one of them.
There are 2 sets of questions for Math Computation and 3 sets for Applied Math. They reflect whatever you may face on the TABE test.
Everything is designed according to the TABE level on this website. There are several free math, reading, and language practice tests for every level.
The quality of these tests is proper for students of every level. So, try to take them and be proficient in all subjects.
There is another helpful website that offers free practice tests. They are organized by topics and aim to save time, effort, and money. Every test-taker needs high-quality tests to affiliate with the style and format of TABE.
Additionally, it provides a specific study plan according to your level and test date so that you can pass the exam on the first try.
It consists of numerous self-paced lessons that teach you mathematical topics in an easy-to-understand format. There are some practice tests for each math topic that you have to be proficient in for the exam. It also provides some other options including courses, tutoring, plans, and test prep that you can use to take the test without stress.
A Comprehensive Bundle for the TABE Math Test
Free TABE Math Practice Tests
Best TABE Math Books
The TABE 11&12 Math in 10 Days is what you need to achieve the essential knowledge. The materials are explained thoroughly with examples and hints. Sample exercises for each topic allow you to apply whatever you have learned so you will get ready for taking practice tests at the end of the book. By completing this section, the nature of exam questions will be revealed.
One of the best-seller books is TABE Math for Beginners. It provides you with helpful tips and tricks to be enough skillful for any type of question. The goal of these strategies is to study once and gain the best result on the exam. The mathematical materials are explained through hints and examples and they are understandable for students of every level. Besides that, it has 2 math practice tests that show you the test content and style.
Another helpful self-study book is the TABE Math Study Guide. It starts with valuable information to enhance the quality of your study and improve your problem-solving abilities. All you must learn is taught through reviews and examples. After learning the solutions and formulas, you can answer sample questions. They make you well-prepared to apply whatever you have learned in the book's full-length practice tests.
Choosing the TABE Math Test Prep as a study resource will lead to learning thoroughly and preparing to take the exam confidently. There are three sections including reviews, examples, and sample questions. In other words, first, you learn the materials, and then by solving some questions, you learn to apply the formulas. There are two full-length TABE math practice tests to familiarize you with the exam format.
The TABE 11&12 Math Tutor contains test-taking strategies to improve your ability of problem-solving. In this self-study book, there is a review and two or more examples for every topic. Then, it provides several questions so that you can practice and complete your learning. The book consists of 2 full-length math practice tests and taking them to improve your performance. Therefore, on the test day, you will take the exam in a stress-free condition.
The TABE Math Practice Workbook is filled with countless high-quality exercise questions. They are organized by topics so that you can work on challenging topics first. With the help of these parts, the ability and speed of problem-solving will increase. If you want to test your math knowledge, there are 2 practice tests to be taken. They have the same style and content as the actual TABE test.
The mathematical materials of the Comprehensive Math Workbook for TABE 11&12, are managed by topics. So, you can practice each concept, master them, and go through the next one. As they are written by professional math instructors, the quality of questions is at the level of TABE. You are given 2 full-length math practice tests that reflect the difficulty level and style of the test which have an important role in taking the exam successfully.
This 5 TABE 11&12 Math Practice Tests (Level D) is used to affiliate with the form and content of the test. They have to be taken when you are fully learned and prepared to solve any type of question. Many test-takers recommend this book as students experience less anxiety by taking its practice. All of them contain detailed answer explanations so the possibility of making common mistakes will be reduced.
Everyone can be successful on the exam with the TABE Math in 30 Days. Whatever is necessary to learn is packed in it. Every mathematical concept contains reviews and examples. They are just half of the way to learning. You have to answer the sample questions to learn thoroughly. Additionally, 2 TABE math practice tests mirror the style and content of the exam.
Inside the pages of the TABE 11&12 Math Workbook 2020-2021 for Level D, you will get access to abundant exercises. The goal of the book is to give you high-quality practices and make you proficient in all necessary topics. When you feel ready to take the exam, it is the best time to test yourself with the book's full-length practice tests.
This information about the books and websites aims to help you have access to great resources which you need on the way to learning. Study them carefully and choose the best one according to your plan, ability, and need.
A Comprehensive Bundle for the TABE Math Test
Related to This Article