A Comprehensive Collection of Free CHSPE Math Practice Tests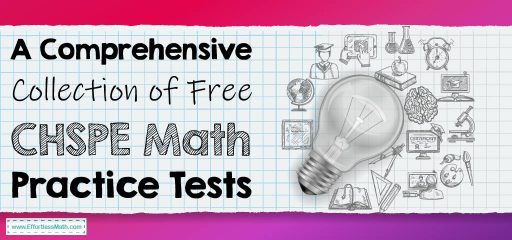 The California High School Proficiency Examination (CHSPE) is a voluntary test that measures students' proficiency in basic writing, reading, and mathematics skills in three and a half hours.
The California State Board of Education awards a Certificate of Proficiency to those test-takers who pass the CHSPE. Regarding California law, this certificate is equivalent to a high school diploma so students are allowed legally not to attend high school.
CHSPE is good for students aged 15 to 18 who wish to finish high school early and are ready for college or to join the workforce. Besides receiving a Certificate of Proficiency, they need to verify parental approval.
The CHSPE is a paper-based test administered in California twice a year on select dates and you can take it as much as you pass it. The CHSPE is given in English only.
The Absolute Best Book to Ace the CHSPE Math Test
The mathematical part of the test contains 50 multiple-choice questions. You are tested by algebra, geometry, and statistics, as well as other mathematical principles. It does not provide a list of all the basic formulas that you must know for the test so you have to recall many math formulas on the CHSPE.
Test-takers receive their results on the CHSPE through mail around five weeks after their exam date.
How to Prepare for the CHSPE Math Test?
Create a Study Plan: You have to use your study plan according to your ability and timetable. It does not matter how many hours you spend studying math, the point is that use your time wisely.
Review the CBEST Concepts: Math might be a difficult part and require more study. You must use your strengths and skills to learn essential concepts and recall the formulas on the test day.
Familiarize Yourself with Test Content: Another important issue is that you must know what type of questions is on the actual test. It is possible only by using sample questions to practice over and over so that you get familiar with the format and content of the questions.
Access Reputable Study Resources: There are numerous math books and websites to cover the CHSPE but not all of them are proficient. You have to choose high-quality resources to be able to overcome any type of math question.
Try Different Methods of Studying: The way of learning is various. Some students might learn better via books while some are more comfortable studying online resources. Some may need help and have to attend math courses but some can master math concepts by self-study. Therefore, you can try a mix of them to learn thoroughly and prepare for the exam.
Take many practice tests: One thing that students must do is to take plenty of practice tests to experience the exam condition. That way, your exam anxiety will decrease and you can take the test more confidently.
Best CHSPE Math Prep Resource
6 Best Websites for CHSPE Math Practice Tests
It is known as the most comprehensive, ideal, and high-quality math website. There is helpful information about all math exams including CHSPE. It facilitates your access to plenty of free Math practice tests which is important to get familiar with the content and format of the CHSPE.
You can find a list of mathematical formulas that are required for the exam and have to memorize them. In addition, many great exercise books, workbooks, practice tests, and study guides are available to be used as a self-study or used by instructors in the classrooms.
Another benefit of this website is that you are given efficient tips to study more effectively and pass the exam the first time you take it.
It is one of the useful websites that offer a comprehensive explanation of the CHSPE. It also contains some math courses for those students who need to learn some math concepts via the tutors.
Another great feature of it is that you can take some free math practice tests that are a complete coverage of the CHSPE content and format.
The materials on the website are gathered by mathematical experts so that it is a reliable resource for you to practice and overcome even the challenging section of math.
The objective of this website is to help you build your math knowledge strongly. There are some free CHSPE math practice tests that you need to get familiar with the type of questions you might face on the actual CHSPE.
It helps you to reduce your exam anxiety through perfect tips because stress and anxiety affect your performance. Besides that, you can have access to online courses if you need professional tutors to learn math thoroughly.
Finding a reliable website to practice and learn is helpful to take the exam successfully. And this website provides you with free math practice tests that help you know the exam style.
These tests represent the exact content and format of questions that you might encounter on the actual CHSPE.
Besides that, you can use its benefit to enhance your information about different aspects of this test as it explains the test completely.
This website is another perfect learning resource to help you master the math section of the CHSPE. As practice tests have an important role in taking the exam successfully, it provides some free math practice tests. It also contains useful information about this exam to know it better and pass the CHSPE confidently the first time.
It is going to answer your questions about the CHSPE so that you have the correct information. There are some free sample tests to give you enough math knowledge and improve your test-taking skills.
You can use the benefit of these tests that simulate the real exam and cover all the math topics you must know to pass the test with a higher score.
This trusted website offers detailed explanations for each question so you can detect incorrect answers and their reasons.
Free CHSPE Math Practice Tests
Free CHSPE Math Practice Tests 1
Free CHSPE Math Practice Tests 2
Free CHSPE Math Practice Tests 3
Free CHSPE Math Practice Tests 4
Free CHSPE Math Practice Tests 5
10 Best CHSPE Math Books
The main purpose of all of these books is to help you practice, be proficient in mathematical topics, gain enough confidence, and take the test confidently. Choose the best one according to your needs and develop your math skills.
The Best Books to Ace the CHSPE Math Test
Related to This Article