How Is the TSI Test Scored?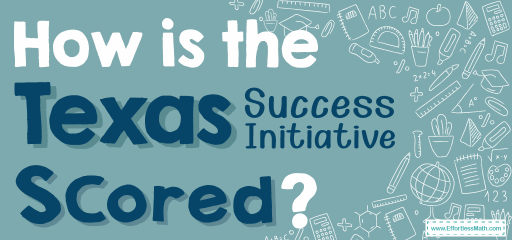 The TSI Assessment or Texas Success Initiative is a program that determines the appropriate level of college coursework for an incoming student. The TSI test consists of three separate exams: Reading, Mathematics, and Writing.
Although various criteria exempt a student from the need for this program, many students entering the University of Texas are required to take them. Exams, except for the essay section, are multiple-choice and computer-adaptive, as questions increase or decrease in difficulty based upon previous answers.
A good TSI score proves your readiness for college-level coursework and saves you considerable money and time by allowing you to avoid remedial classes.
The Absolute Best Book to Ace the TSI Math Test
What are passing scores?
Students who earn a grade point or higher are considered "college-ready" and are eligible to enroll in any entry-level college course. Some college-level courses require passing scores in more than one field. The following are the passing cut scores for TSIA as set by the state:
Passing scores before January 11, 2021
Reading: 351
Math: 350
Essay score of 4 and multiple-choice of 340 or higher, or multiple-choice of less than 340, an Adult Basic Education(ABE) diagnostic level of at least 4, an essay of at least 5
Passing scores after January 11, 2021
Math: 950 or 910-949 + diagnostic score of 6
English, Language Arts, Reading: 945-990 + Essay of at least 5 or 910-944, the diagnostic score of 5 or 6, and Essay of 5-8
Developmental Education (DE) diagnostic tests
If your TSI Assessment score is lower than your college readiness level, additional test questions will provide information about your weaknesses and strengths and can help the advisor place you in the appropriate course.
What are the Adult Basic Education (ABE) Diagnostic Tests?
In addition to setting standards for university readiness, the state set standards for the Adult Basic Education Level. These are grades that are roughly equal to below the ninth grade level in writing, reading, and/or math. Students who score in this area may need additional support before taking developmental education courses.
Before January 11, 2021
Reading: a score of 341 or lower
Writing: a score of 349 or lower
Math: a score of 335 or lower
If you have an Adult Basic Education score on any of the three parts, you will also have a level descriptor from 1 – 6. This "second chance" score takes you from the ABE level to the developmental education level.
Best TSI Math Prep Resource for 2022
TSI exemptions
Students who meet one of the following conditions are exempted from the initial assessment exam or part of it. In either case, Texas State must obtain official proof to process the exemption. The SAT, ACT, or STAAR scores must be part of the student's Texas State record. Formal grade reports must submit to the Office of Admissions (these grades may be submitted on your official high school transcript).
For five years from the date of the test, a student who meets the following standards or higher:
ACT:
A combined score of 23 with a minimum of 19 on the English test (meets both reading and writing TSI requirements) and /or math test shall be exempt from those corresponding sections.
SAT:
A combined math and verbal score of 1070 with a minimum of 500 on the verbal test (satisfy both writing and reading TSI requirements) and/or the math test are exempt from these corresponding parts. The new SAT score from 2016, students must earn an evidence-based score of 480 for reading and writing; and a 530 for math to be exempt.
When will you get your scores?
The TSI assessment is graded immediately upon completion. You will be given an unofficial copy of the points via email.
How do you get a copy of your test scores?
If you were not provided a copy of your exam results, you can access them by completing a TSI Score Search Request and selecting the email me my scores option.
The Best Book to Ace the TSI Math Test
More from Effortless Math for TSI Test …
Do you have to take the TSI exam and you have stressed and anxious?
Top 10 Tips to Overcome TSI Math Anxiety article helps you overcome test anxiety!
Looking for tips to make a big difference and help you to pass your TSI math test?
How to Pass TSI Test: Top Tips and Key Tactics is something that makes learning all the better!
The TSI exam is near and you still have not memorized the necessary formulas?
Do not worry because we have prepared a complete list of formulas for you: TSI Math Formulas
The Perfect Prep Books for the TSI Math Test
Have any questions about the TSI Test?
Write your questions about the TSI or any other topics below and we'll reply!
Related to This Article