How to Prepare for the SAT Math Test?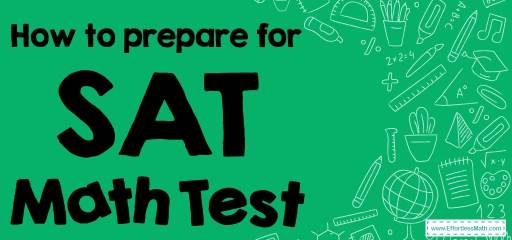 The SAT is a standardized test widely used for college admissions in the United States.
It is a pencil-and-paper test developed and administered by the College Board, a private and non-profit organization.
The SAT is divided into three major segments.
There are two Math sections on the SAT:
Math Test Section 1 (No Calculator): this section has 20 questions (15 multiple choice and 5 grid-in) and lasts 25 minutes.
Math Test Section 2 (Calculator): This section has 38 questions (30 multiple choice and 8 grid-in) and lasts 55 minutes.
The SAT Math Test covers a range of math practices including:
Heart of Algebra
Passport to Advanced Math
Problem-Solving and Data Analysis
In total, the SAT math test is 80 minutes long and includes 58 questions: 45 multiple-choice questions and 13 grid-in questions.
In an SAT assessment test, all questions are weighted the same and there is no penalty for wrong answers in SAT.
Start Studying for the SAT Test
As mentioned, the SAT test consists of three parts: reading, writing, and mathematics. But experience has shown that math is the most stressful part for test-takers.
Perhaps part of this anxiety is due to a lack of understanding of math and part is due to a lack of enough practice.
When you are learning and practicing math concepts, mathematics becomes interesting and enjoyable for you after a while.
Here are the general steps required for the SAT math test, from the preparation stage to the interpretation of the test score.
The Absolute Best Book to Ace the SAT Math Test
1. Choose your study programs
There are many prestigious SAT books and study guides that can help you prepare for the test.
Most major test preparation companies have some offerings for the SAT, and the short-listing of the best book ends up being a puzzling phenomenon.
There are also many online SAT courses.
If you just started preparing for the SAT course or test and you need a perfect SAT prep book, then SAT Math for Beginners: The Ultimate Step by Step Guide to Preparing for the SAT Math Test is a perfect and comprehensive prep book for you to master all SAT topics being tested right from scratch.
It will help you brush up on your math skills, boost your confidence, and do your best to succeed on the SAT Test.
This one is an alternative book:
If you just need an SAT workbook to review the math topics on the test and measure your exam readiness, then try: SAT Math Practice Workbook: The Most Comprehensive Review for the Math Section of the SAT Test
You can also use our FREE SAT worksheets: SAT Math Worksheets
Have a look at our FREE SAT Worksheets to assess your knowledge of Mathematics, find your weak areas, and learn from your mistakes.
SAT Math FREE Resources:
2. Change your attitude about math
The SAT math test may seem difficult. But you should know that regardless of your past math experience, all brains have the ability to succeed in math. Practice and effort strengthen the power of your brain.
With perseverance, you will get better and better every day. Start practicing today and do not give up until you have made enough progress.
Practice with motivation.
Just have a little patience and you will see that you will achieve the desired result.
If you encounter a problem along the way, no matter how small the problem, do not feel embarrassed. Share your problem with a knowledgeable teacher or counselor.
3. Look at math concepts from a different perspective
Search for concepts in the SAT math test and analyze them.
Ask yourself which of the math concepts is more difficult for you or you are not yet familiar with. Take enough time for this part and learn it.
In which part of math are you still weak? Have a special plan to read this section so that it eventually becomes your strength.
Which part of math has always been easy for you? Do not forget to review this section. Spend some time learning the best strategies for learning math. Knowing the tips in this field will increase your speed in the test.
Remember that you should never start learning more advanced concepts without knowing the basics of math. This may discourage you. It will also waste your valuable time.
Check the differences between the concepts of the different parts of mathematics. For example, Heart of Algebra questions focuses more on linear equations, while Passport to Advanced Math questions relates to nonlinear expressions, 90% of your questions are at the Heart of Algebra, Passport to Advanced Math, or Problem-Solving and Data Analysis, the remaining 10% are simply categorized as Additional Topics.
These topics include geometry, trigonometry, and problems with complex numbers.
Best SAT Math Prep Resource
4. Plan and practice
Setting scheduled times for math helps make studying a habit. So, to master math in the SAT test, you need to have a good plan for yourself. Make sure someone else knows about your study plan. This will make you more serious and committed to your program.
Once you have planned your math study, it is time to start reviewing the content.
It does not matter how talented you are in math; you need to practice daily. This will help you remember the details well.
5. Find the best method of preparing for the SAT math test
There are various resources that SAT math test-takers can use. It's up to you which of these resources you prefer.
A good prep book can help you a lot.
Many test takers use these prep books and online resources to prepare for the SAT math test. One of the advantages of this method is that you have control over exactly what you need to study and when.
Another good thing is that if you use free resources and get resources from the library, this is the cheapest way.
However, this method also has disadvantages. It may be difficult for you to stay motivated. Also, in this way, you have more work to do. You need to look for resources and find your weaknesses. You may not know exactly where to start.
If he feels that you are still a little weak in math, you should know that sometimes guidance is needed.
Attending prep courses is another way you can choose. In this method, you will be accompanied by other test-takers. If you do not have enough motivation, this method can be good for you.
The downside of this way could be that you may not be able to keep up with the speed of the class. In this case, the quality of the teacher is very important. Just as a good teacher can help you progress; a bad teacher just wastes your money and time.
And the problem is that you have basically no control and no way to know if you will get a good teacher or a bad teacher when you enroll in the class.
In addition to prep books and taking prep courses, another way to better learn the concepts of the SAT Math test is to have a tutor.
They help you set up a study plan, and identify your weaknesses. But you must first make sure that this tutor is a true professional who is fully acquainted with the details of the SAT Math test.
The disadvantage of this method is that tutoring is very expensive and not available to everyone.
6. Learn how to use the formula sheet and calculator in the SAT math test
In the exam, you will be given 12 necessary formulas and three rules of geometry.
It is better to memorize the necessary formulas. This will speed up the process of answering questions.
Formulas are provided to test-takers so that they may focus on the application, rather than the memorization, of formulas.
However, the test does not provide a list of all the basic formulas that will be required to know for the test. This means that you will need to be able to recall many math formulas on the SAT.
Here is a complete list of all essential SAT Math formulas. Review them all, then take a look at the math topics to begin applying them!
You also need to learn how to use the calculator on the SAT Math test. Here is the list of acceptable calculators for the SAT:
TI-30 (including multiview)
TI-34
TI-82.
TI-83
TI-84 (including the new color models)
TI-89 (including Titanium)
TI-Nspire (all models)
TI-Nspire CAS (all models)
Check out Top Calculators for the SAT to find the right calculator for your test.
The Best Resource You Need To ACE The SAT Math Test
7. Test yourself with simulated tests
If you feel that you are ready for your evaluation, you can tan a full-length SAT practice test to measure your exam readiness. After completing the practice test, read the answers and explanations carefully.
Taking a practice test can help you identify your weaknesses and learn from your mistakes.
Also, if you prefer to take a pencil-and-paper test, you can download and print the simulated SAT Math tests. Because these tests are supposed to be held like the SAT test, you must have all the necessary equipment for the test with you. These include a pencil, eraser, sharpener, calculator, and wristwatch.
The most important factor to consider when taking these tests is time management. During these tests, you will learn more about how to manage time.
The more you take these simulated tests before the main test, the more your skills and speed will increase.
8. Learn how to register for the SAT test
To register for the SAT test, you must apply through the College Board website and log in to your account.
Parents or counselors cannot register on the behalf of students and this must be done by the students themselves.
Another way to register is to use the form in the registration booklet that you can get from your school counselor.
To register for the SAT, you need a series of personal information such as full name, date of birth, gender, e-mail address, current grade, high school code, and a photo of yourself.
The photo you upload to the site should look like your ID photo and should also look like your face on the day of the test.
For those who study at home, the high school code is 970,000.
It is better that you answer more questions because then colleges and scholarship organizations can find you. Although this position requires more time, it can be useful for you.
Before registering, you must decide whether to take the SAT test with an Essay. A number of colleges need an Essay and some recommend that it is better to have an Essay.
The SAT registration fee is $52 and the SAT with Essay is $68.
When registering for the test, you must select a test date and test location that is closest to you.
9. Tips to follow on the day of the SAT math test
Test day can be stressful for any test-takers, but if you follow the necessary tips, anxiety will be minimized.
The first thing you need to know is that the night before the test is not a good time to read new material. If there is anything left unread, leave it. Do not study as much as possible the night before the test.
Studying the necessary formulas can be useful.
Go to bed early at night and try to sleep at least seven hours the night before the test.
Do not take the test without eating breakfast unless you are one of those people who get nauseous after eating breakfast. Of course, you should not eat too much, you do not want to get sleepy during the test.
Try to wear comfortable clothes.
Make sure the following equipment is ready for the day of the test from the night before: admission ticket, photo ID, two pencils (non-mechanical), an eraser, calculator, wristwatch (there is an hour, but if it is easier to check the time of your wrist), water and snacks.
Remember that personal items such as cell phones are not allowed during the test.
Although it may seem difficult, keep calm while taking the test.
Whenever you are anxious, focus on your breathing for a moment. This will control your mind.
Do not let difficult questions make you anxious. Otherwise, you will lose your focus, you will not be able to solve the questions and as a result, you will be more anxious. In this case, you will fall victim to a vicious cycle.
Do not get stuck on questions that may seem difficult to you. In this case, you may miss the chance to answer easier questions.
Do not spend more than 30 seconds on the question you do not know the answer to. Circle the question you do not know and skip it. If you have extra time at the end of the test, think about it again.
There is no penalty for wrong answers so do not leave the question unanswered. Even if your guess is random, your answer may be correct.
10. Check your score report
SAT test scores are usually published 2 to 3 weeks after the test.
Visit the College Board website to see the exact time of publication of grades.
To receive the score, you must log in to your college board account and refer to the score report online section.
Educators can also receive student scores by visiting here.
People who do not have a college board account (have registered for the test by mail) and those who have applied for a printed score at the time of registration will receive a score report on paper.
Receiving old grades and receiving grades with mobile requires an additional fee.
The Best SAT Math Quick Study Guide
11. How to interpret the SAT test score
When faced with your SAT test score, at first it may be difficult for you to know where to start.
The total score on the SAT test is from 400 to 1600. This score is the sum of your section scores.
The scores of the math, reading, and writing sections are between 200 and 800 each.
Percentiles measure your performance compared to other test takers and give you a better perspective. In fact, they show the percentage of test-takers whose score is equal to or less than yours.
For example, if your math test score is 500 and the percentile for the 500 is 47, you have done better than the 47% of test-takers.
One percentile compares your score with the scores of a group of 11th and 12th-grade students in the United States.
Another compares your score with those of typical SAT test-takers.
The range of cross-test scores is 10-40 and subs-cores also have these scores ranging from 1-15. They help you see your strengths and let you know what you need to focus on in progress.
SAT FAQs:
Some common questions about SAT test:
What kind of math is on SAT?
90% of the questions are from the Heart of Algebra, Passport to Advanced Math, and Problem Solving and Analysis.
The remaining 10% are Additional Topics. These topics include geometry, trigonometry, and problems with complex numbers.
What calculators are acceptable on the SAT?
TI-30 (including multiview)
TI-34
TI-82.
TI-83
TI-84 (including the new color models)
TI-89 (including Titanium)
TI-Nspire (all models)
TI-Nspire CAS (all models)
Do you have to clear your calculator for the SAT?
No, test takers do not have to clear the memory in their calculator before starting the test.
How hard is math level SAT?
This section will be easy for you if you understand the concepts well and practice well and solve the sample questions. At least 20% of people who take the test get a full score of 800.
Is calculus on SAT?
There is no trigonometry, radians, use of the quadratic formula, matrices, or any other advanced mathematical material, calculus or pre-calculus, in the SAT.
What is a good SAT score?
If you score a composite score of 1083 or more on the SAT, you are above average.
What SAT score is required for Harvard?
Just having a high SAT score is not a requirement for Harvard University. But at least they want to see a score of 1460 to give the candidate a chance.
What's the highest SAT score ever?
The highest possible score on the SAT is 1600. To achieve this score, you must get a full score of 800 in the three sections of reading, writing, and math.
Are 3 months enough to study for SAT?
Do not worry if you only have three months. Three months can also be enough time to prepare for the SAT test.
Can I prepare for SAT on my own?
Students can use a variety of methods to prepare for the SAT, including self-study, an online prep class, or a tutoring program. There are also various resources for students, such as practice tests, prep books, and so on.
Are SAT classes worth it?
If your Educational background is always good and your scores are in the range of 75% or higher, you do not need to take SAT prep classes to improve your scores.
How long are sat breaks?
The main sections last 3 hours and test-takers are given 15 minutes for breaks
How many times can you take the SAT?
You can take the SAT as many times as you like. But most people should take this test at least twice and at most four times.
What to do 2 days before SAT?
It is better to review the concepts a little and take a look at the mistakes that are repeated many times. It might be a good idea to take another test again.
which test is better SAT or ACT?
Both SAT and ACT scores are used for college admissions, and most colleges usually do not prefer either. Neither of these two tests is more difficult than the other. It is up to the students themselves which of the two tests they prefer.
College Entrance Tests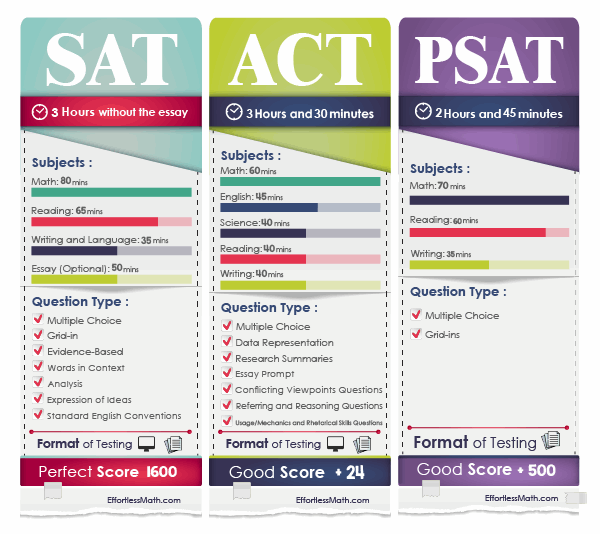 Looking for the best resources to help you or your student succeed on the SAT test?
The Best Books to Ace the SAT Test
Related to This Article