If you are a PSAT math test taker, it may be difficult for you to choose an appropriate calculator for the PSAT math test from the dozens of approved by the Collegeboard. On the other hand, the math section of the PSAT test has a lot of calculations that require you to use the right calculator to make your work easier. So, if you are a hardworking student taking the PSAT Test to prepare for the SAT, you need to follow us to the end of this article! The purpose of writing this article is to introduce 5 of the best-permitted calculators for the PSAT math test.
If you are looking for a complete list of authorized calculators in the test, see here.
The Absolute Best Book to Ace the PSAT Math Test
1-Texas Instruments Nspire CX CAS Graphing Calculator
The TI-Nspire CX CAS is a popular and powerful Graphing Calculator that is the first choice of many SAT and PSAT test-takers. However, this calculator cannot be used in the ACT because it's so advanced. It has a built-in Computer Algebra System (CAS) that allows you to solve algebraic equations and expressions without any problems. This device is a powerful tool for solving problems of pre-algebra, algebra 1 and 2, trigonometry, geometry, calculus, statistics. Its screen is full-colored and with its backlight display, you can read in low light easily. With the help of TI-Nspire CX CAS, you can establish the connection between equations, graphs, and shapes faster and stronger.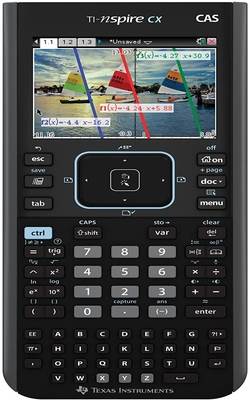 Pros:
Lightweight and easy to carry
High performance and unique features
Backlit color display
Rechargeable battery
CAS functionality
Ample RAM
Cons:
Not allowed in ACT
It's expensive
2-Casio FX115ESPLUS Scientific Calculator
Casio fx-115ES PLUS is another good choice for students who want to take the PSAT math test. The display type of this device is Natural Textbook Display, which is very clear and visible. It has a protective hard case that protects it from possible damages. Suitable for those who need a suitable device to solve problems related to general mathematics, trigonometry, statistics, algebra 1 and 2, calculus, engineering, and physics. This calculator is designed to be powered by solar power and has a battery backup supply. Casio fx-115ES PLUS is designed to improve your math performance on the PSAT math test.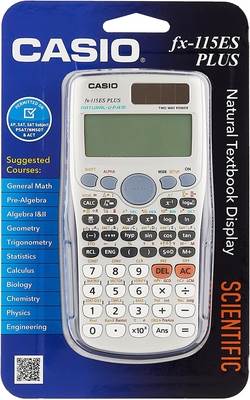 Pros:
Great layout
Protective hard case
Organized keyboard design
Natural textbook display
Powered by solar power
features battery backup supply for reliable use
Cons:
It's complicated to use
Expensive compared to the performance
3-Casio fx-300ES PLUS Scientific Calculator
The fx-300ES PLUS is one of the latest Casio standard scientific calculators that can be a great choice for PSAT test-takers. It has more than 200 features to perform calculations correctly and efficiently. In addition to having a large, multi-line display, the Multi-Replay function allows you to edit expressions and calculations step by step to get the correct answer. You are allowed to use the fx-300ES PLUS on the PSAT / NMSQT, SAT, ACT, and AP tests. This device is designed to meet your needs in general mathematics, trigonometry, statistics, algebra 1 and 2, pre-algebra, geometry, and physics.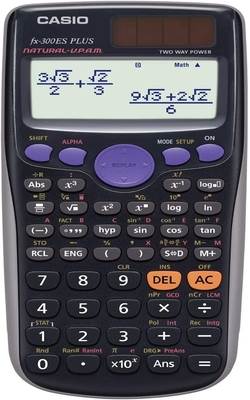 Cons:
Doesn't support the more advanced functions
For some users, it's complicated to use
4-Texas Instruments TI-84 PLUS CE Graphing Calculator
The TI-84 Plus is one of the thinnest models of the Texas Instruments brand in terms of the body, so it's a good choice for carrying around easily. This calculator has all the graphing functions, which makes it a popular calculator among users. It has a math print feature that allows you to view math formulas and symbols exactly as they appear in textbooks. Its screen is full color and its backlit display makes this device suitable for studying in low light. This device with a rechargeable TI battery is an eco-friendly option. The TI-84 Plus is suitable for calculations on topics such as pre-algebra, algebra 1 and 2, trigonometry, geometry, calculus, statistics, and instrumental physics.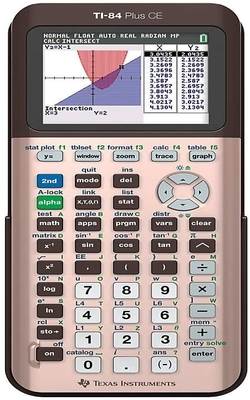 Pros:
High-resolution, full-color backlit display
Sleek Design
Rechargeable TI battery
Eco-friendly option
Perfect choice for students
Approved for use on SAT, AP, PSAT/NMSQT, and ACT exams
30% thinner than the previous Texas Instruments models
Cons:
Low quality of the materials used in the body
Expensive compared to the performance
There is No backspace button
5-Texas Instruments TI-34 MultiView Scientific Calculator
Although the TI-34 MultiView is the last option on our list, it is still one of the most suitable calculators allowed for the PSAT math test. Its 4-line display allows you to navigate and edit inputs easily. Its pull-down menu makes it easy to use this calculator. Also, in this device, you can easily explore the (x, y) table of values for a given function by entering specific x values. You can also review previous entries and look for patterns. The TI-34 MultiView, like the TI-84 Plus, has a MathPrint feature. This device is suitable for Pre-Algebra, Algebra 1 and 2, General science, and Geometry topics.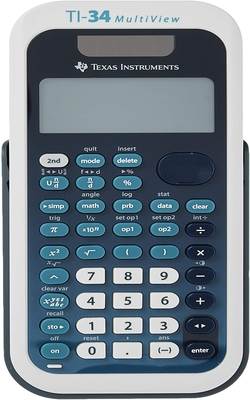 Pros:
4-line display
MathPrint feature
pull-down menu
Advanced fraction capabilities
Step-by-step fraction simplification
Solar and battery-powered
Cons:
Trig functions are not quickly accessible
The instructions are sometimes confusing
This list is prepared to help you choose the calculator that suits your needs. All of the items listed in this article are the approved PSAT calculators. These products are high-quality devices. Now that you are familiar with the top PSAT math calculators, you have taken an important step in preparing for the PSAT math test. Our experts hope that according to the tips provided in this article, you will be able to make the best choice to suit your needs to pass the PSAT test.
The Best Books to Ace the PSAT Math Test