PSAT / NMSQT Math-Test Day Tips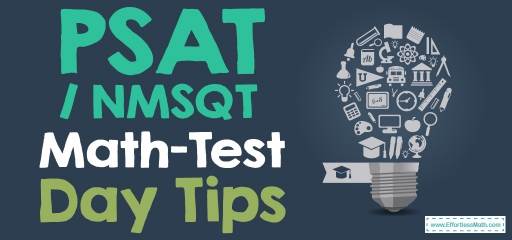 The Preliminary SAT, also known as the PSAT / NMSQT, is a trial version of the SAT. You can only take the PSAT once a year, and many students in grades 10 and 11 take the test. The PSAT consists of three parts Reading, Math, and Writing.
The PSAT math section is divided into two sections:
A No Calculator Section contains 17 questions and you cannot use a calculator. You have to complete this section in 25 minutes.
A Calculator Section contains 31 questions. You have to complete this section in 45 minutes.
If you are preparing for the PSAT test, you want to know what points you should follow before the exam. Here are the most important tips for the PSAT test. So join us!
The Absolute Best Book to Ace the PSAT Math Test
The Night before the Test!
Eat a well-balanced meal
It is a proven fact that what you eat will affect your mental and physical performance. Avoid coffee and doughnuts or pizza and soft drinks the night before the test. Grilled fish with steamed vegetables, mixed fruits for dessert, and caffeine-free beverages will be great in all cases. Fatty and heavy food can make a person lethargic the morning after consumption.
Map out your route
If you have never been to a test site before, search it online and choose your route. You don't want to be trying to discover where to go on the morning of the test. Be sure to set aside time for traffic. Unexpected delays may occur every day, schedule your time to get to the test site with 20 minutes more time.
Gather your materials
The night before, gather everything you need for the PSAT test to avoid running the next morning. The things you need include an eraser, two no. 2 pencils, and acceptable identification.
Get enough sleep
If you get enough rest, your memory will be much better. In one research, students who got enough sleep before a math test was better than a student who stayed up all night studying.
Best PSAT Math Prep Resource for 2022
On Test Day!
Wake up early
On exam morning, be sure to wake up early to have enough time to eat breakfast and get ready. In this case, you do not need to hurry and this will calm your mind a lot. Having peace of mind acts an important role in your success and increasing your productivity.
Eat a healthy, filling breakfast
Eating breakfast has a positive effect on your cognitive function, especially in the areas of memory and attention. So be sure to get your energy for the PSAT math test by eating a nutritious breakfast. Good brain foods to eat before the PSAT test include the following whole grains, fresh fruit, and fresh vegetables.
Even if you are nervous about your experiment, do not skip breakfast! Most likely, if you do not eat anything at all, you will feel worse and have less energy.
Repeat positive affirmations
You've been preparing hard for this test and you are ready! Avoid all negative talk (for example, I cannot do this). Remind yourself that you are ready for PSAT math and will do your best.
Layout your clothes
Choose a layered dress and lay it out before retiring. You will have no control over the temperature of the site, so be prepared to add or subtract layers to be comfortable during the PSAT test. Look for comfort, not style.
Arrive at the test center earlier than scheduled
Enter the test site early to be present half an hour before the test starts. You always have to anticipate the unexpected. Being late to the test center increases your stress, and this can be a factor in reducing your good performance.
Best PSAT Math Prep Resource for 2022
During the Test!
Believe in yourself
Confidence can help a lot. As you wait in the test center, visualize your Math, Reading, and Writing by knowing the answers to all the questions. Many athletes use the same method before their competitions. Your performance will reflect your expectations.
Read questions carefully
Make sure you read each part of the PSAT math problem. Test authors try to deceive and trap you in every way. Do not let them catch you. Do not make the mistake of being careless because you have not taken more than one second to read the issue carefully.
Elimination of the incorrect answer
Even if there is no penalty for a wrong answer on the PSAT math, elimination is still a critical strategy. If you can determine one or more answer options are incorrect, you can increase your chances of getting the right answer by reducing the selection.
Guessing
Every math question on the PSAT has four answer options and no wrong-answer penalty. This means that if you do not know how to approach a question, you have a 25% chance of randomly selecting the correct answer. Even if there is a 75% chance of choosing the wrong answer, you still do not lose any points. The worst thing that can happen to PSAT is that you will get zero points for a question, which means you have to at least guess, even when you do not know what to do.
After the Test!
After the PSAT test, take some time to rest and relax. Do not go into too much detail about what needs to be said, done, or written. You cannot change the decision you made during PSAT math, so accept it. During the day, spend your energy and time on activities that keep you happy and entertained.
PSAT Math FREE Resources:
College Entrance Tests
The Best Books to Ace the PSAT Math Test
Related to This Article