How Does SAT Essay Affect Writing Score?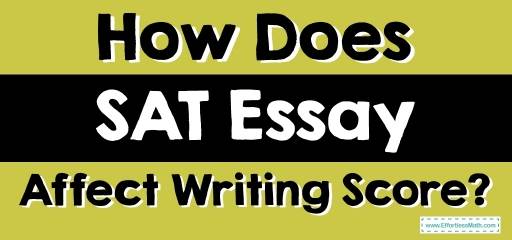 Applicants who are tempted by academic heights target mainly American universities. This is logical: US universities have occupied a good half of the top 100 in the world ranking.
In the United States, the elite of theoretical science and future top practitioners study — doctors, programmers, engineers, etc.
If your goal is a diploma from an American university, then, most likely, you hear the name SAT more than once.
This test is mandatory for all applicants to local universities: both public and private. Performance in each of the SAT sections is calculated on a scale of 200 to 800 points. The average result (50 percent success in this exam) is considered to be from 490 to 530 points for each section. In addition to the standard calculation system, the SAT also has intermediate scores.
The baseline SAT score increases by 1 point for each correct answer. If you skip a question, your original score will remain the same.
The Absolute Best Book to Ace the SAT Math Test
SAT Exam Structure
This exam consists of four sections: Reading, Writing, Math, and Essay.
Reading. 52 questions have to be done in 1 hour. The section contains five passages and there are no more than 11 questions in each of them. There are three main topics: history, humanities, and natural sciences. Each SAT contains one text from American or world literature, such as Jane Austen, Charles Dickens, or Mark Twain, one excerpt from the US founding document or related text, one text on economics, psychology, sociology, or other humanities, two excerpts in natural sciences.
Writing. This part consists of 44 questions and you have 35 minutes to do it. All questions are based on literature, which may be accompanied by tables, graphs, and diagrams.
Mathematics. This section contains 45 multiple-answer questions (4 answer options) and 13 full-answer questions. You are given 1 hour and 20 minutes for everything.
Essays. This part is optional. If you wish, you can skip it. Some American universities don't require writing papers but if you are going to enter a top US university, you still have to write this part. Unlike the old version of the SAT, in the new SAT, you will need to analyze the text and write an essay, demonstrating an understanding of the text, deep analysis, knowledge of rhetorical and literary techniques, and the basics of academic writing in English. From 2 to 12 points are given for the essay. If you want to get more custom information or cheap help on writing an SAT essay, you can always turn to the Affordable Papers professional service. 
Best SAT Math Prep Resource
5 Tips for Writing a Great SAT Essay
Even in high school or college, many students realize that it is not enough to be good at writing to get high scores for an essay.
You also need to understand what the teacher is waiting for, how the written assignments are assessed, and what requirements are imposed. The same considerations should be taken when preparing for writing an SAT essay.
Counselors often advise students to master grammar and learn how to clearly state their thoughts, correctly formulate sentences, and structure the text. 
However, it is also important to use complex vocabulary when writing an essay. The point is, you have to think like an examiner. Unlike other standardized tests, in the SAT exam, essays are tested by a person, not a computer.
Although they have received special training, they are just people who read your essays. So, how to write an essay and get more scores?
Practice writing an essay in 25 minutes using a timer. Sample questions, including the most recent ones, can be found on the Board of Entrance Exams website and on other SAT preparation pages. By understanding how essays are graded, you can look at your essay through the eyes of an examiner. How would you rate yourself? If you are having trouble looking at your essay from a different angle, try comparing it to the examples on the Entrance Exam Board website.
Divide the text into paragraphs, dilute it with subheadings, and use visual formatting tools. Nobody is interested in your ability to keep a thought in a paragraph on a whole page — they simply won't finish reading such a paragraph. Make your text convenient.
Write honestly. Don't show off. Don't try to be who you are not. Don't attribute to yourself other people's thoughts and actions. At the same time, demonstrate your awareness of the issue. Are there knowledge gaps? Prepare yourself by reading the required and additional literature. Find out what great scientists, philosophers, writers, and politicians have said on this topic. Write out interesting quotes, not forgetting where you found them.
Come up with a plan. An essay is a free-form work but this doesn't mean that you need to write it without a plan. Without proper planning, you can get carried away from the original task. Without a plan, there will be no consistency and compositional completeness. SAT essay requires conciseness, specificity, and clarity of presentation. So, having selected the material (including the quotation), think about the plan. You can make adjustments to it while writing your essay. This is not forbidden. The main thing is that the logic doesn't leave you.
Check everything. After writing an essay, check and modify it. Of course, you can't write a "real essay" on the exam. There is too much to know and remember. Books and the Internet are not at hand, and not everyone's memory is phenomenal. But the requirements for exam essays are different. SAT essays have little in common with the philosophical and journalistic genres. These are no longer "thoughts about" but specific reasoning about a specific problem. In such an essay, there is a minimum of emotions, a maximum of knowledge about the subject.
High SAT scores give great opportunities for admission to universities in the United States. However, good prospects await those who scored just over 600 for each section during testing. In any case, you can retake the exam if you wish!
College Entrance Tests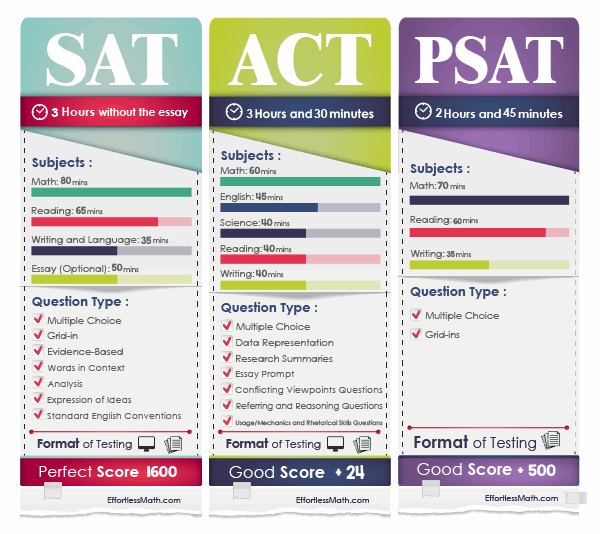 Looking for the best resource to help you succeed on the SAT Math test?
The Best Books to Ace the SAT Math Test
Related to This Article