What does PSAT Stand for?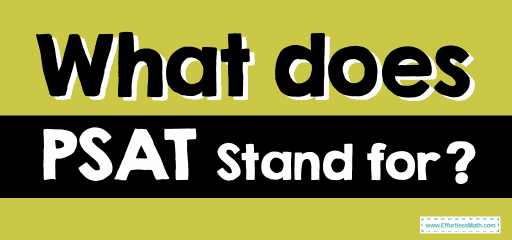 If you are preparing for the PSAT test, it may be important for you to know what the PSAT stands for. We answer this question here. So join us!
The Absolute Best Book to Ace the PSAT Math Test
The PSAT stands for Preliminary SAT, which is used to prepare high school sophomores and juniors who intend to take the SAT for university admission during their senior year. The PSAT is an optional test that is not required for admission to most colleges. The test measures your skills in writing, reading, and math.
The PSAT comes in three forms:
PSAT 8/9:
The PSAT 8/9 is designated for students in the 8th and 9th grades. It is often the student's first experience with a set of SAT assessments and includes the same types of questions students observe in other tests.
PSAT/NMSQT:
PSAT/NMSQT stands for National Scholarship Qualifying Test which, students take as a sophomore or junior. It is practice for SAT. The sections and questions follow the same format. Like the SAT, PSAT/NMSQT takers have the opportunity to use student search services and receive communications directly from colleges.
PSAT 10:
The PSAT 10 is for sophomores. Like the PSAT/NMSQT, PSAT 10 is practice for the SAT and introduces students to the types of questions they see on the test. While PSAT 10 does not qualify students for the National Merit Scholarship Program, it also provides them with the opportunity to use student search services. PSAT 10 shows you how to work in PSAT / NMSQT and SAT.
PSAT Math FREE Resources:
College Entrance Tests
The Best Books to Ace the PSAT Math Test
Related to This Article