Top 10 Free Websites for TSI Math Preparation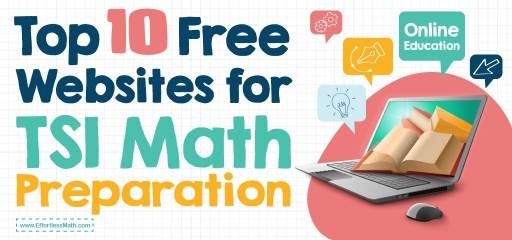 The Texas Success Initiative Assessment, known as the TSI, is a test to determine the appropriate level of college work for an incoming student. It is a rapid and comprehensive assessment of students' academic abilities. The TSI test involves three exams:
The TSI math test contains 20 questions. The test covers geometry, data analysis, and algebra on both intermediate and basic levels.
In this post, we are going to introduce you to the top ten free websites for the TSI that, if the cost of attending online classes is difficult for you or you do not have enough time to attend the TSI classes, be able to pass this test successfully. So join us!
The Absolute Best Book to Ace the TSI Math Test
1: EffortlessMath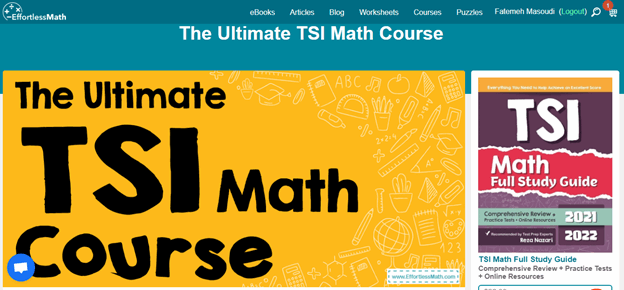 EffortlessMath site provides a collection of TSI test exercises, practice tests, worksheets, formulas, and test-taking strategies to users and students preparing for the TSI test. Access to all of these TSI test resources is free and easy. With this site, pass the TSI test easily and effortlessly.
2: Mometrix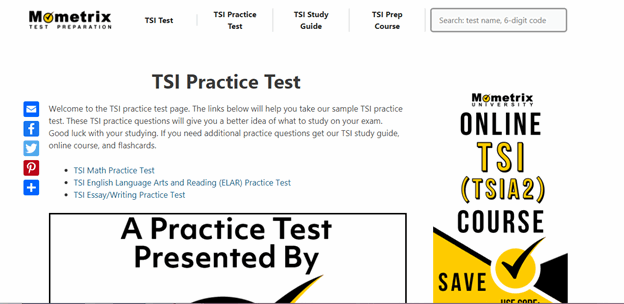 Before the main TSI test, reviewing the resources and exercises of the Mometrix site will prepare you for this test, and you will be familiar with how to answer this test.
3: PURPLEMATH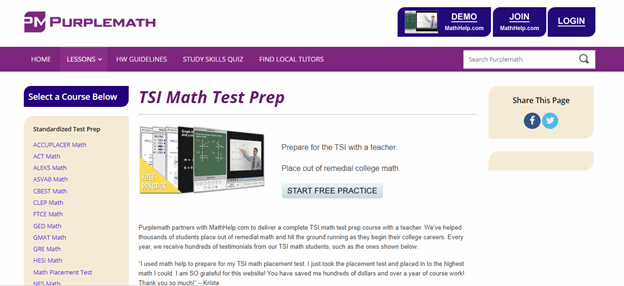 PURPLEMATH website helps students earn the required grade to pass TSI.
4: TEST-GUIDE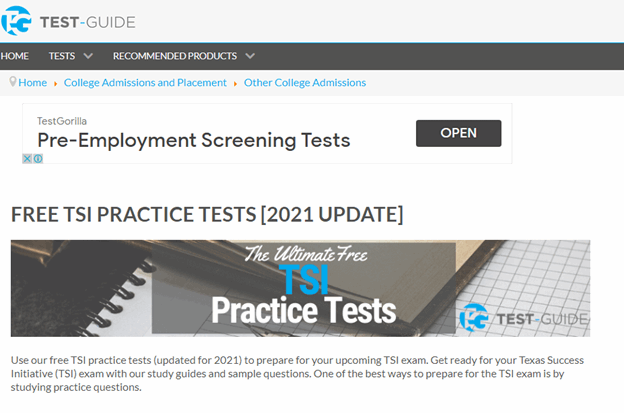 TEST-GUIDE provides you free TSI practice tests with a chance to assess how well you have prepared for the particular TSI test, then to consider the areas you need work on.
5: Union Test Prep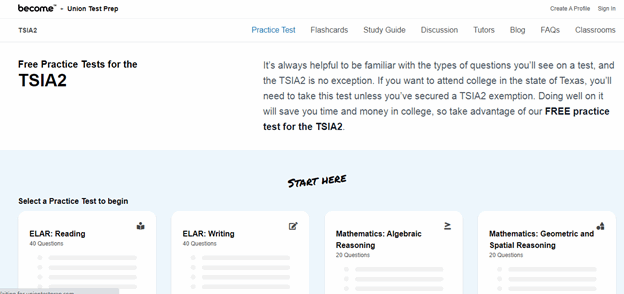 Familiarity with the types of questions you see in the test is always helpful, and TSIA2 is no exception. If you want to attend Texas State College, you must take this test unless you are eligible for the TSIA2 exemption. Doing it well will save you time and money for college, so use Union Test Prep free TSIA2 practice test.
Best TSI Math Prep Resource
6: iPREP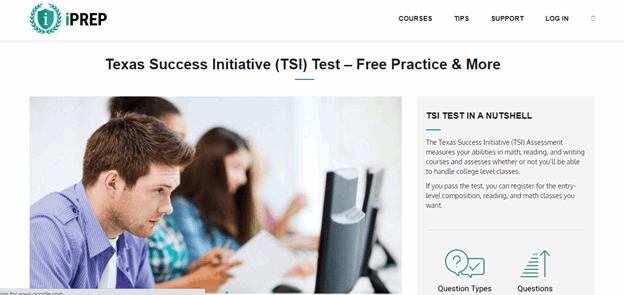 iPREP experts have selected the best free web resources so you can focus on practice for a while. If you want to excel, iPREP has a set of proprietary ingredients that should take you to the next level. And to save more time, you are ready to plan for their mobile app.
7: UGO Prep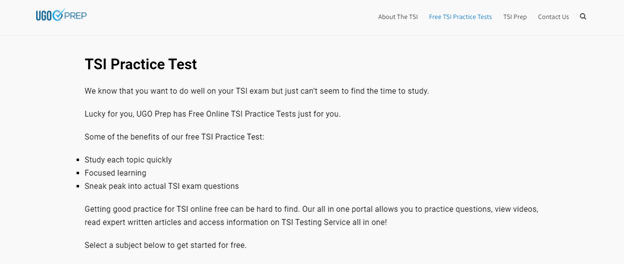 It is difficult to find good workouts for TSI online. UGO Prep website lets you watch videos, practice questions, read articles written by experts, and have full access to information about TSI testing services!
8: Prepterminal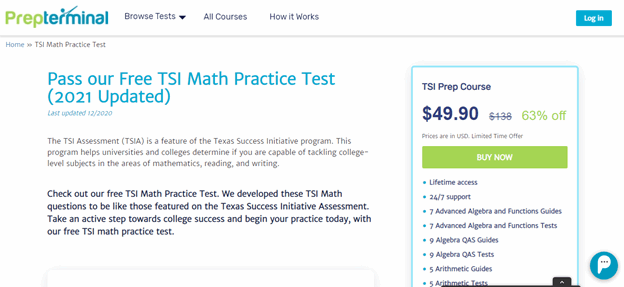 TSI math questions Prepterminal website is designed like the ones used in the Texas Success Initiative Assessment. Take an active step towards success at the university and start your practice today with the free TSI math practice test.
9: MATHhelp.com
With the help of the MathHelp website, there is no need to attend live classes or ask a teacher. There is no confusing explanation and boring and repetitive questions in the course guide of this website.
10: TSI Practice Test
On the TSI Practice Test website, free TSI practice tests are designed to help you prepare for this exam. These online practice tests are interactive with automatic scoring. Detailed explanations are included with each answer, so you can learn from your mistakes.
The Best Books to Ace the TSI Math Test
More from Effortless Math for TSI Test …
Need help passing the TSI math test?
If so, we suggest you read our guide on How to Pass TSI Test: Top Tips and Key Tactics.
Need a TSI Math Formula Cheat Sheet?
Do not search anymore because we have prepared it for you in The Ultimate TSI Math Formula Cheat Sheet section.
You can also get some help to pass the TSI math test by reviewing the 10 Most Common TSI Math Questions!
The Perfect Prep Books for the TSI Math Test
Have any questions about the TSI Test?
Write your questions about the TSI or any other topics below and we'll reply!
Related to This Article