Do You Have to Pass the STAAR Test?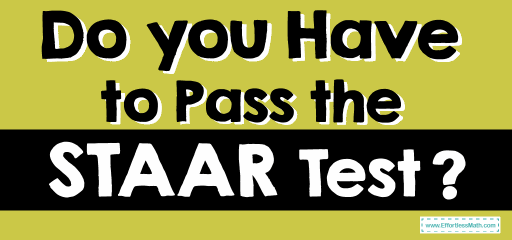 If you go to Texas public schools, you might want to know if you have to take the STAAR exam or not. Your answer to this question is here!
The Absolute Best Book to Ace 8th Grade STAAR Math Test
The STAAR is a set of standardized tests in Texas that primary and secondary students must pass to progress to the next level and graduate from high school. In Texas, public school students in grades 3 to 8 must take at least two STAAR tests each year. These tests will vary depending on your class level. High school students are required to complete five stages of the STAAR test (possibly seven, depending on the region) at any time in grades 9 through 12 to graduate and obtain a high school diploma.
According to the Texas Student Success Initiative, students in grades 5 and 8 have to pass reading and math tests for their grades to be promoted to the next grade. In other words, all 5th-grade students must pass math and reading to enter 6th grade, while all 8th-grade students must pass math and reading to reach 9th grade.
Not every high school students need to take and pass each EOC STAAR exam. According to the TEA, it can be made substituted for some EOC tests. Test scores that are likely to replace EOC test scores consist of ACT, SAT, AP, and IB test scores. For instance, you may be able to utilize your math SAT score as a replacement for your Algebra I EOC exam.
The Best Books to Ace 8th Grade STAAR Math Test
Related to This Article