What Happens If You Fail the STAAR Test in High School?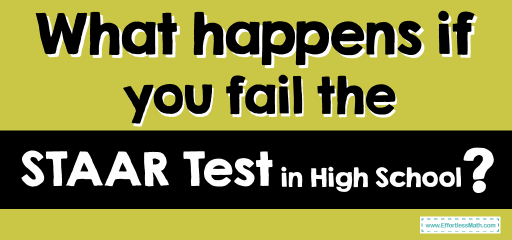 The STAAR system annually tests students in grades 3 through 8 and tests high school students through end-of-course tests. High school students must pass Algebra I, English I, English II, Biology, and US History end-of-course exams to graduate.
The Absolute Best Book to Ace 8th Grade STAAR Math Test
You will take the EOC STAAR test right after completing the relevant course. Each STAAR test is presented three times a year on paper or computer in the fall, spring, and summer, giving you plenty of opportunities to retake any tests you did not pass on your first try.
The grade you take on a particular EOC STAAR test depends on when you complete the course for that test. For example, most 9th graders take biology classes, so you can take the Biology STAAR exam in the spring of your freshman year. Even if you do not pass it, you will still have several opportunities to retake it: once that summer and three times per year in grades 10, 11, and 12.
If you pass a course but do not pass the EOC test, you can simply retake it on another administration.
But not all high school students need to take and pass every EOC STAAR test. According to the TEA, it can be substituted in some EOC tests. Test scores that are likely to replace EOC test scores include SAT, ACT, AP, and IB test scores. For example, you may be able to use your math SAT score as a substitute for the Algebra I EOC exam.
The Best Books to Ace 8th Grade STAAR Math Test
Related to This Article