The Ultimate 7th Grade STAAR Math Course (+FREE Worksheets)
Seeking an all-included wide-ranging course to aid your pupils in getting ready to take the 7th Grade STAAR Math exam? Well, you have found it!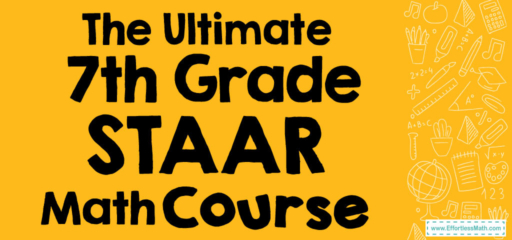 If you desire to help your pupils do great on the 7th Grade STAAR Math Course, then this free course will do the job and give them every pertinent concept of the test before the testing date.
This is a picture-perfect Course encompassing all the concepts regarding the 7th Grade STAAR Math exam.
This excellent STAAR Math Course is all your pupils require to be successful when they take the 7th Grade STAAR Math exam.
This Course for STAAR Math as well as other kinds of Effortless Math Courses is utilized by thousands of annual STAAR exam-takers to aid them in reviewing the basic subjects, brushing up on mathematics, and discovering where they are weak and strong so they get top marks when taking a STAAR test.
Study at your speed without any schedules! Every lecture contains notes, as well as examples, useful exercises, and other activities to assist pupils in mastering every STAAR Math concept without difficulty. Merely follow the instructions for every lecture to be able to ACE the 7th Grade STAAR Math examination.
The Absolute Best Book to Ace the STAAR Math Test
7th Grade STAAR Math Complete Course
Rational Numbers
Integers Operation
Decimals Operation
Fractions and Mixed Numbers Operation
Proportional Relationships
Rates and Ratio
Percents
Price problems
Geometry
Probability and Statistics
Equations and Variables
Geometric Problems
Inequalities
Statistics and Analyzing Data
Looking for the best resource to help your student succeed on the 7th Grade STAAR Math test?
The Best Resource to Ace the 7th Grade STAAR Math Test
Related to This Article