Have you been thinking about which test you should take; GED, TASC, OR HiSET? Great! This article is for you.
Perhaps you might have heard a lot of things about these exams, and you wanted to know if any of them would be the perfect choice for you. To satisfy your curiosity, either the GED, TASC, or HiSET can be used for your high school equivalency certificate because the purpose of writing these exams is for your HSEC. However, their advantage differs from one another. In this article, you will find the difference between these tests, including their benefit and which test you should take between GED, TASC, AND HiSET.
You would need some fundamental knowledge and information about GED, TASC, and HiSET test if you will be sitting for the HSEC exam. In addition, this will help you to prepare ahead of the exam. So let's get into details!
The Absolute Best Book to Ace the GED Math Test
Difference and similarity between GED, TASC, and HiSET
In 2014 when there was a slight change on the GED test about its price and test type, the TASC and HiSET popped up in the market. Therefore, this led to selecting one or more tests for different states that conduct examinations for HSEC. So, you would need to check the test type that's available in your state.
The Absolute Best Book to Ace the TASC Math Test
Also, most people prefer HiSET over GED and TASC because HiSET gives the students time to get familiar with the Common Core Standard.
However, the similarity between these tests is that you can take either of them to get your HSEC certificate, use a calculator for mathematics tests, and they all align with College and Career Readiness Standards (CCRS).
The Absolute Best Book to Ace the HiSET Math Test
The GED, TASC, and HiSET, Who can do these HSEC exams?
These exams are for those who want to acquire a high school equivalence certificate irrespective of age. Some people are concerned about which one of them is the easiest. The answer is NONE! Although some people prefer GED questions over HiSET while others would like to choose HiSET over TASC because of the easier math questions.
Conclusion
We have ensured that you are better informed about these tests to aid your decision. Best of luck with your tests!
High School Equivalency Tests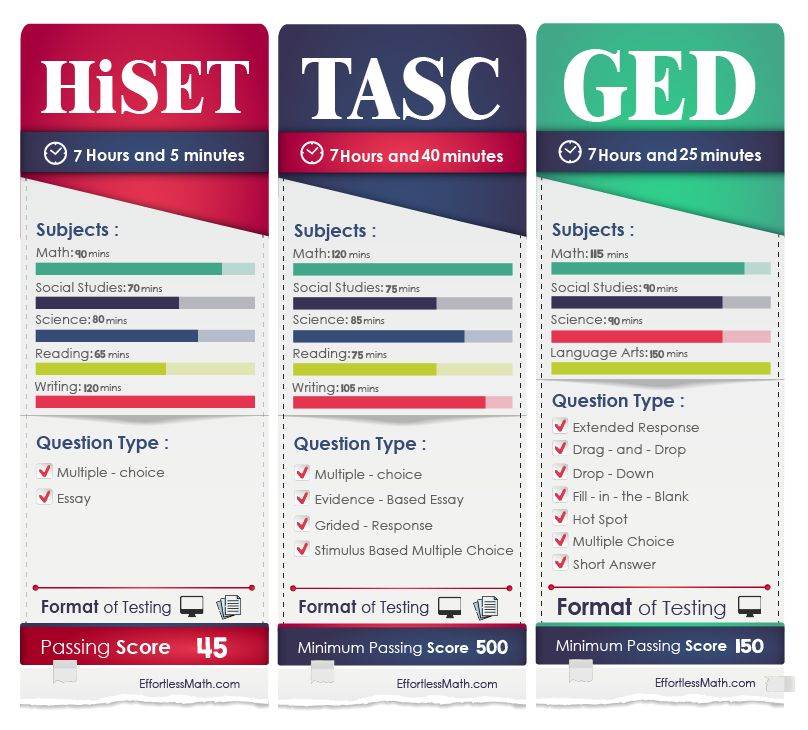 The Best Books to Ace the HiSET, GED, And TASC Math Tests