A Comprehensive Collection of Free TASC Math Practice Tests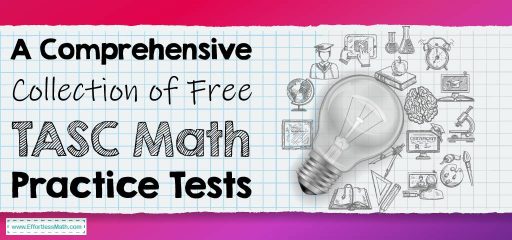 The Test Assessing Secondary Completion known as the TASC Test measures your abilities in mathematics, reading, writing, social studies, and science. It is offered in either a paper-and-pencil format or as a computerized test. The math portion of the TASC test focuses on mathematical skills that contribute to college and career readiness.
A Comprehensive Collection of Free TSI Math Practice Tests
The mathematical concepts that you must be proficient in are:
• Numbers and quantities
• Algebra
• Functions
• Geometry
• Statistics and probability
On the Mathematics Test, you will answer approximately 52 questions in 105 minutes.
It is divided into two parts. The first part will take 50 minutes to answer questions with the aid of a calculator. 
In the second part, you will spend 55 minutes answering questions for which you are not permitted to use a calculator.
Keep in mind that you will not be allowed to use your calculator. But a TI-30XS calculator will be provided during the test time that has many scientific functions.
There are 37 multiple-choice questions, 12 gridded response items, and two technology-enhanced items in the TASC Mathematics section.
There are no penalties for wrong answers so if you do not know the answer, you can guess.
If you do not succeed on the exam, you are allowed two retakes per calendar year.
How to Prepare for the TASC Math Test?
Make a Schedule: Having a daily study plan is helpful to practice and review the materials in a way that you fully understand. The quality of your studying is more important than the amount of time you spend. The best schedule is made according to your ability and needs.
Get Professional Help: You have to focus on learning the exact skills you will need. Some parts of math may be more challenging and require someone to help you. Sometimes you can get help in the form of an online TASC math study guide. Be sure that you get help from reliable resources.
Take Practice Tests: One of the most useful ways to prepare for a test is by taking plenty of practice tests. Many free practice tests are available to challenge you in all aspects of the TASC exam. As they include answer explanations, you will better understand the material and do better on the actual TASC.
Manage Time: This test must be completed within a limited time. So, you have to do plenty of test prep to increase your speed of problem-solving. Besides that, you have to learn the strategies to be used for different types of questions.
7 Best Websites for TASC Math Practice Tests
This website generally covers the mathematical portion of all popular tests including TASC. It helps you with free math practice tests that have the same quality as the actual test.
If you need to study and then take tests, there are several great books. By choosing each one of them, you get access to abundant questions, examples, reviews, practice tests, and many more.
Besides that, there are some video lessons and tutorials that help you to be proficient in math. Take the benefits of this website to pass the TASC exam with the best score.  
You will find countless free practice tests for math and all other subjects that are tested on the TASC exam. It offers 2 practice tests for the mathematical portion of the exam and represents the format, quality, and content of the actual test.
The first part contains 40 multiple-choice questions and the second part contains 12 fill-in-the-blank questions. The best time to take them is when you are fully prepared so that your progress and math knowledge will be revealed.
It covers not only TASC but also plenty of popular tests. With the aid of this website, you will have access to five free math practice tests. Taking them is helpful to know what type of questions you may face on the actual exam.
There is a useful guide that provides you with up-to-date information about the test. Because taking a test with cognition, may reduce your exam anxiety, and therefore you achieve the best result.
There are free math practice tests on this website that are offered lesson by lesson. The main purpose of them is to build your skill in all topics so that solving the questions takes less time. It also contains flashcards to help you with difficult concepts.
Some sections are devoted to classrooms and lessons for those who need to study, learn, and then practice. Try to read its study guide to have enough information about different aspects of the exam. 
This website divides the mathematical concepts into smaller sections and offers numerous free practice tests for each of them. The benefit of them is that you will have the opportunity to find challenging subjects and work on them.
By mastering all the essential math topics, taking the TASC test with less anxiety and more confidence will be possible. So, keep in mind that, the more you practice, the better result you may gain.
It is another great website that provides free practice exams for all subjects tested on the TASC. Math is always one of the challenging subjects so taking practice tests is necessary to overcome it. There are some TASC math books that you can buy directly from the study store on the website.
In addition, it offers tutorials for those who have more problems in math learning and need a professional tutor to help them. So, it provides different options to use and get the best score on the exam.
Mastering math requires high-quality studies and solving questions as much as possible. That is why this website contains free math practice tests and courses. The benefit of taking free tests on this website is that the result is shown and then you will understand if your knowledge is adequate for the exam.
As these tests reflect the type of questions you will see on the TASC exam, it is a great opportunity to boost confidence and eliminate the exam anxiety.
Best TASC Math Prep Resource
Free TASC Math Practice Tests
10 Best TASC Math Books
The variety of websites and books is introduced comprehensively and in detail. Using each one of them may help you take the exam confidently and pass with the perfect score you have ever thought about.
Best TASC Math Prep Resource
Related to This Article