TASC Testing Accommodation and Support for Disabilities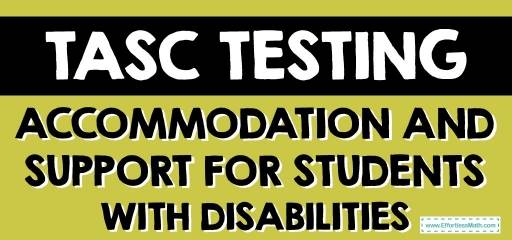 The TASC is a high school equivalency test that replaced the GED test in 2014. Now in 2022, in states like New York and Indiana, a student can take the TASC test to earn a High School diploma, bringing in greater opportunities.
Passing a TASC will allow the examinee to move on to college or start their careers, which is why every student must be given the same ability to pass this very important test.
In the past, students with disabilities had difficulty with standardized testing because there were no systems to support them.
Things changed in 2008 when the ADA Amendments Act required testing facilities to provide accommodations for examinees with disabilities.
The DRC is committed to working with the ADA Amendments Act to ensure that every examinee has equal access to the TASC.
The Absolute Best Book to Ace the TASC Math Test
Disability Accommodations
TASC testing facilities now provide special tools, materials, and accommodations to support all examinees with disabilities. These adjustments are in the form of alternative testing formats, allowable resources, and special testing accommodations.
These accommodations are designed to assist the examinee without giving them an unfair advantage over the other test-takers.
Some (but not all) disabilities that may require special accommodations are:
Visual Impairment
Mobility Impairment
Hearing Impairment
Cognitive Disability
Reading Disability
Writing Language Disability
Math Disability
Science and Social Studies Disability
Alternative Formats
The TASC offers alternative formats to fit the many needs of examinees. These alternative formats include both the English and Spanish languages. Testing facilities will provide large print, braille, and audio CD formats upon prior notification.
Allowable Resources
Examinees are allowed certain tools and materials that will assist them in completing the test. The TASC examination comes in two options: Paper Best Test (PBT) and Computer Based Test (CBT). Both of these test types are available to examinees with disabilities, but the accommodations vary.
Best TASC Math Prep Resource
Other allowed resources that you should bring on TASC testing day:
Multiple pencils and erasers
Standard science calculator
Calculator and mathematics formula sheet
Scratch paper for problem-solving and option elimination
Place markers, Straightedges, or Blocking Ruler
Highlighter
Special Testing Accommodations
Beyond providing examination tools and materials, the facilities can also provide special testing accommodations. Some of these special accommodations include extra time to complete the test or comfortable lighting.
These accommodations will only be approved with proper documentation of the examinee's diagnosis to support their request.
We at Effortless Math believe that you can accomplish anything as long as you have the right tools and resources. Find your mathematics tools and resources on our blog: Blog (effortlessmath.com)
The Best Books to Ace the TASC Math Test
More from Effortless Math for TASC Test …
Do you feel that you are not ready for the TASC Math test?
Check out our Full-Length TASC Math Practice Test and Free TASC Math Practice Test to measure your exam readiness.
Have you ever been looking for the top TASC test preparation websites?
The good news is that we have put together a complete list of the Top 10 Websites for FREE TASC Math Preparation for you.
Also, check out our comprehensive TASC Math Worksheets to help you prepare for the TASC Math test.
The Perfect Prep Books for the TASC Math Test
Have any questions about the TASC Test?
Write your questions about the TASC or any other topics below and we'll reply!
Related to This Article