How to Prepare for the TASC Math Test?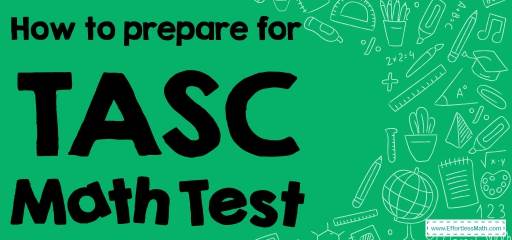 The Test Assessing Secondary Completion, commonly known as the TASC or high school equivalency degree, is a standardized test.
The TASC is a standardized test to verify that examinees know core content areas equivalent to that of graduating high school seniors.
There are five subject area tests on TASC:
Reading;
Writing;
Social Studies;
Science;
The TASC Mathematics test is a 105-minute test that covers basic mathematics topics, quantitative problem-solving, and algebraic questions.
There are two Mathematics sections on the TASC. The first section contains 40 multiple-choice questions where calculators are permitted. You have 55 minutes to complete this section.
The second section contains 12 Gridded-Response questions. The calculator is NOT allowed in the second part. Test takers have 50 minutes to answer all questions in this section.
Examinees will also be given a page of mathematic formulas to use during the test.
How to Study for the TASC Math Test?
If you are one of the test takers who are going to take the TASC test, you may be worried about the test results. Especially if you always feel that you are weak in math and this worries you, put aside your worries.
Just join us and we will guide you step by step to prepare for the TASC math test.
The Absolute Best Book to Ace the TASC Math Test
1. Choose your study program
Many prestigious TASC books and study guides can help you prepare for the test.
Most major test preparation companies have some offerings for the TASC, and the short-listing of the best book ends up being a puzzling phenomenon.
There are also many online TASC courses.
If you just started preparing for the TASC course or test and you need a perfect TASC prep book, then TASC Math for Beginners: The Ultimate Step by Step Guide to Preparing for the TASC Math Test is a perfect and comprehensive prep book for you to master all TASC topics being tested right from scratch.
It will help you brush up on your math skills, boost your confidence, and do your best to succeed on the TASC Test.
If you just need a TASC workbook to review the math topics on the test and measure your exam readiness, then try: "TASC Math Practice Workbook: The Most Comprehensive Review for the Math Section of the TASC Test
This bundle contains 7 comprehensive TASC Math learning resources to help test takers prepare for the TASC Math Test. This product is the only resource you will ever need to ace the TASC Math Test.:
If you think you are good at math and just need some TASC practice tests, then this book is the perfect TASC test book for you:

You can also use our FREE TASC worksheets: TASC Math Worksheets
Have a look at our FREE TASC Worksheets to assess your knowledge of Mathematics, find your weak areas, and learn from your mistakes.
TASC Math FREE Resources:
2. Change your attitude about math
Math can be a fun challenge. If you have never thought about math like this before and you want to get rid of it, know that with such a mindset you cannot be successful in the test. We ask you to change this attitude from today. Having a positive mindset about math will gradually affect your progress.
3. Make the concepts clear
What do you know about the concepts in the TASC Math Test?
The TASC Math Test covers basic mathematics topics, quantitative problem-solving, and algebraic questions. You must first check these concepts carefully.
You know better than anyone else where your strengths and weaknesses are. But it is best to start with the basics. This study method will avoid your confusion.
If you study advanced concepts without reviewing the basics, you may not get the results you need and you may be wasting your time.
4. Practice daily
To succeed in the TASC math test, you need daily and continuous practice. Studying whenever you want to study will not lead you to the desired result.
The solution to this problem is to have a daily study schedule. In this daily schedule, set aside a certain amount of time for math and stick to it.
If you are not used to doing such a program, start with less time. If you do not know how to set up a study program, consult an academic advisor.
5. Find the best way to prepare for the TASC test
You can speed up your learning process by taking TASC test prep courses or using TASC test prep books.
Here is a complete list of books that can improve your TASC Math Test skills.
In the TASC Math Comprehensive Prep Bundle book, you can also find all the concepts and topics required for the TASC Math Test.
You can also hire a tutor to speed up your learning process or use books that guide you like a tutor.
Best TASC Math Prep Resource
6. Use the TASC Math Formula sheet wisely
In the TASC test, you will be given a formula sheet that includes the necessary formulas but does not include all the formulas you need to know. This means that you have to memorize many simple but important formulas.
Memorizing formulas is also helpful to speed up answering test questions. You should only use the formula sheet when you do not remember a formula.
Here is a complete list of formulas you need during the test and their meaning and explanation.
7. Take simulated tests
To better control the time on the day of the test, you should take the TASC simulated tests when you feel you are ready for the test and have learned the math concepts.
These simulated tests can be online or written practice tests.
The simulated test conditions must be similar to the actual test conditions on the day of the main test.
These tests make you less stressed on the day of the TASC test and you become more familiar with the type of questions. Familiarity with strengths and weaknesses is another advantage of simulated tests.
8. Register for the TASC test
To register for the TASC test, you must visit here. Create an account, specify the day of the exam and the place of the test, and complete your registration with a series of personal information.
9. Take the TASC Math test
Test day is an important day for you, so try to get to the test center at least 30 minutes earlier.
Make sure you have all the necessary equipment, including, pencils, a sharpener, an eraser, a snack, and a bottle of water.
Bring an ID card, driver's license, or state identification. In some states, you must provide an ID card to prove that you reside in that state. States Requiring Proof of Residence: Illinois, Indiana, Nevada, New Jersey, New York, Ohio, and Texas.
You will most likely be asked to put personal items such as your cell phone or handbag in a closet or at home.
Keep in mind that the TASC Math Test has two sections and you are only allowed to use the calculator in the first section.
During the test, try to be calm and cool!
Do not get stuck on a question if you do not know the answer, skip it and think about it again at the end of the test if there is time left.
The Best Quick Study Guide for the TASC Math Test
TASC FAQs:
Here are some common questions about the TASC test:
What kind of math is on the TASC test?
This test covers basic mathematics topics, quantitative problem-solving, and algebraic questions.
Is the TASC test easy?
Like any other test, the TASC test is not going to be easy, but you can pass it with enough study and good planning.
Is the TASC test harder than the GED?
Yes, the TASC test is a little more difficult than the GED test.
How long is the TASC math test?
It takes approximately eight and a half hours to complete and is usually administered over two days.
What's the passing score for the TASC test?
The minimum passing score is 500 for Reading, Mathematics, Science, and Social Studies.
What happens after you pass the TASC test?
your high school equivalency can help you find a better job or go on to college.
What is the highest TASC score?
The highest possible score in each subtest is 800, plus a score of 8 for the Writing essay.
Can you use a calculator on the TASC test?
You are only allowed to use the calculator for the first part of the TASC math test.
High School Equivalency Tests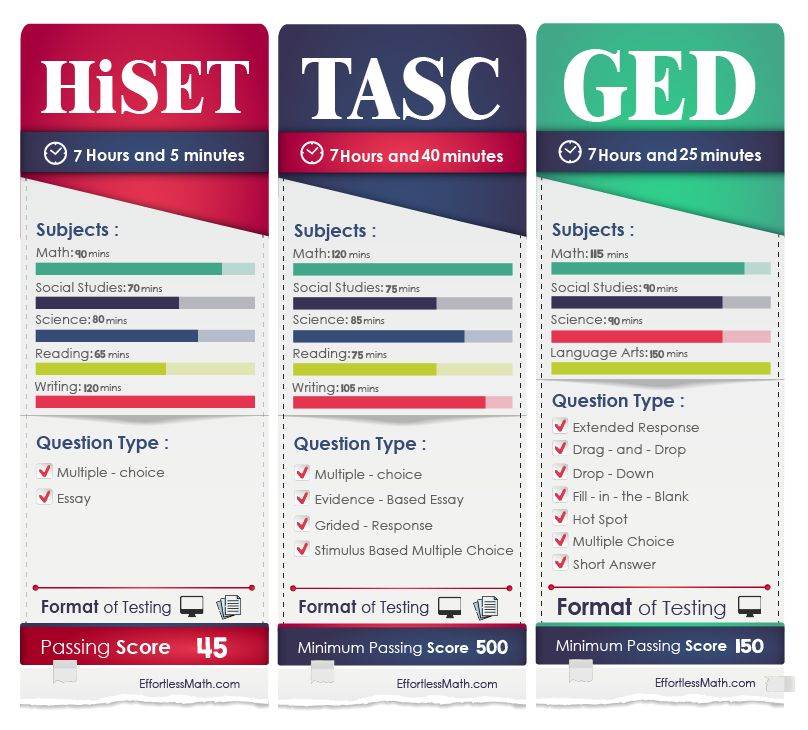 Looking for the best resources to help you or your student succeed on the TASC test?
The Best Books to Ace the TASC Math Test
More from Effortless Math for TASC Test…
Are you looking for the best TASC Math prep book?
Have a look at our complete list of Top 10 TASC Math Prep Books.
Need a practice test to help you improve your TASC Math score?
Try our Full-Length TASC Math Practice Test and Free TASC Math Practice Test.
The Perfect Prep Books for the TASC Math Test
Have any questions about the TASC Test?
Write your questions about the TASC or any other topics below and we'll reply!
Related to This Article