Top 10 Tips to Create a TASC Math Study Plan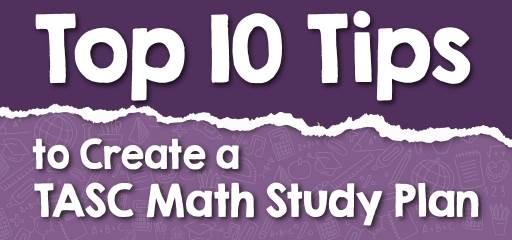 The Test Assessing Secondary Completion or TASC is good news for adults who don't have a high school diploma and want to go back to school or get a good job. There are five subject areas on TASC:
Reading
Writing
Social Studies
Science
To function well in TASC math, you must have a TASC study plan. This plan tells you what, when, and how to prepare for the TASC math. It also helps you manage your time so you don't have to focus too much on specific TASC math topics. Here are some important tips for creating a TASC math study program. So join us!
The Absolute Best Book to Ace the TASC Math Test
1- Know the TASC test
The first and important step in creating a study program is to make a list of all the math topics you need to pass the TASC math test. It will help you develop ideas that should be there.
2- Gather the best study resources
Before you start preparing for TASC mathematics, it is important to gather the best study resources. That way, you do not spend your study time finding resources.
3- Organize your study time
Every person is different, so each person will have their ways of studying that is best for them. In general, sticking to a regular study schedule and making sure you set aside some study/practice time every day will help you retain what you have learned. Studying every day for several short periods will help boost your long-term memory, which is very useful for TASC math.
4- Focus your time on your tricky areas
If you know you are weak in parts of the TASC math test, focus your study time accordingly. You need to be confident in all areas of the exam, so you may want to spend more time in your weak areas to ensure success.
5- Make the most of the practice TASC tests
There are many options available online to help you understand the types of math questions that will be asked during the exam. Using these practice tests helps you improve your knowledge (many of which are usually included with the lesson plans) and helps you identify your strengths and weaknesses and score a potential TASC score.
Best TASC Math Prep Resource for 2022
6- Attend a TASC preparation class
If you are just starting to study TASC math and you are not sure where to start, TASC preparation class is a good way to take math. TASC classes are held at local colleges, youth centers, libraries, adult education centers, and other such facilities in your state. Many of these classes are offered for free or at a lower cost during the day or evening.
7- Create a study environment without distractions
You may work better with a little background noise or music or need absolute silence to study. Either way, make sure your study environment works with you. Avoid anything that may be too counterproductive or distracting. Taking short breaks every twenty minutes helps you stay alert and minimize frustration and fatigue.
8- Join a study group
If you can, study with a friend or work with a study group. You can discuss what you are learning, ask questions and help each other understand. Talking about your progress with family and friends also makes you think about TASC and continuing your education.
9- Take care of yourself
Maintaining your health is very important. You can spend many hours studying and preparing, but you must drink plenty of water, eat well, and exercise. These steps will help you focus while studying TASC math.
10- Evaluate your TASC study plan and modify it if necessary
Your TASC study plan will help you to be more efficient and productive. Do not be disappointed if you find that your study plan does not work. You know what's best for you, so make changes.
Finally, keep in mind that although a study program can help you pass the TASC math test, it does not answer on its own, and the final success of the test depends on your willpower.
High School Equivalency Tests
The Best Books to Ace the TASC Math Test
More from Effortless Math for TASC Test …
Ready to work on some sample TASC Math questions? Check out our TASC Math FREE Sample Practice Questions.
Also, have a look at our Ultimate TASC Math course to help you learn all the TASC math topics before the test day.
If you are asking yourself What Skills Do I Need for the TASC Math Test? We are here to give you the best guide.
The Perfect Prep Books for the TASC Math Test
Have any questions about the TASC Test?
Write your questions about the TASC or any other topics below and we'll reply!
Related to This Article