If you are preparing for the TASC Math test, you need to choose the right test prep book for the TASC Math test. With so many TASC prep books to choose from on the market, finding the right one has never been more critical.
In this TASC Math books review, our team will help you choose among the top-rated TASC books so you can focus on preparing for your TASC Math test in 2021.
Please keep in mind that pricing and availability are accurate of the publish time, but may fluctuate.
Best TASC Math Prep Books in 2021
1- TASC Math for Beginners: The Ultimate Step by Step Guide to Preparing for the TASC Math Test
2- TASC Prep: 2 Practice Tests + Proven Strategies + Online (Kaplan Test Prep)
3- McGraw-Hill Education Preparation for the TASC Test 2nd Edition: The Official Guide to the Test (Mcgraw Hill's Tasc)
4- TASC Test Prep: TASC Exam Book and Practice Test Questions
5- TASC Math Tutor: Everything You Need to Help Achieve an Excellent Score
6- TASC Math Study Guide: Step-By-Step Guide to Preparing for the TASC Math Test
7- TASC Full Study Guide 2nd Edition 2020-2021: Test Preparation For All Subjects Including Online Video Lessons, 4 Full Length Practice Tests Both In … Test Questions PLUS Online Flashcards
8- TASC Math Prep Book 2021-2022: Comprehensive Review with Mathematics Practice Test Questions for the Test Assessing Secondary Completion
9- 5 TASC Math Practice Tests: Extra Practice to Help Achieve an Excellent Score
10- TASC Secrets Study Guide: TASC Exam Review for the Test Assessing Secondary Completion Study Guide Edition
TASC Math Prep Books Comparison Table (2021)
What is the TASC test?
The Test Assessing Secondary Completion or TASC test is a standard test and is used to measure students' knowledge. In fact, it is used to determine whether the students have the knowledge of core content areas equivalent to high school graduates or not.
This test consists of five sections: Reading, Writing, Social Studies, Science, Mathematics.
What does the TASC Math test assess?
It covers basic mathematics topics, quantitative problem-solving, and algebraic questions.
How long is the TASC Math test?
The TASC math test lasts 150 minutes and has two sections: The first section contains 40 multiple choice questions and You have 55 minutes to complete this section. The second section contains 12 Gridded-Response questions and you have 50 minutes to answer all questions in this section.
High School Equivalency Tests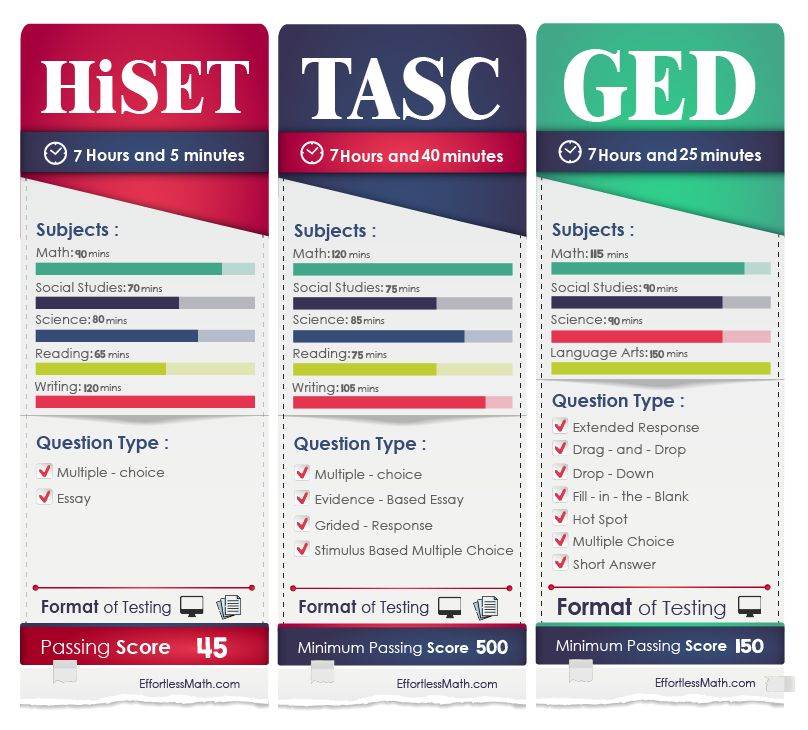 The Best Books to Ace the TASC Math Test