Unlock the Answers: "GED Math for Beginners" Solution Manual
Welcome to our latest blog post, dedicated to all students preparing for the GED Math test! Whether you're just starting out or seeking to refine your skills, we've got something special for you. In this post, we're thrilled to introduce a comprehensive eBook that goes hand-in-hand with our popular "GED Math for Beginners" guide.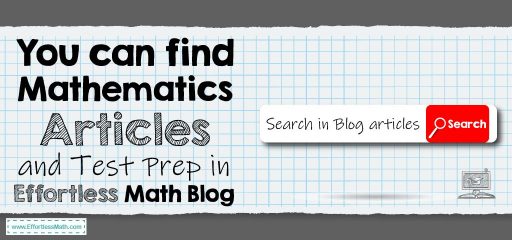 This Solution Manual is a treasure trove of resources, offering detailed solutions to all the practice questions in the book, along with an answer key and step-by-step explanations to deepen your understanding and boost your confidence. Join us as we dive into this essential resource, designed to help you master the GED Math test with ease!
Your GED Math Journey begins here!
Are you preparing for the GED Math test and feeling overwhelmed? Worry no more! Our book, "GED Math for Beginners," is tailored to make your preparation journey smooth and effective. This guide is not just a book; it's a complete roadmap for your GED Math success in 2024.
The Absolute Best Book to Ace the GED Math Test
About "GED Math for Beginners"
What Makes This Guide Stand Out?
GED Math for Beginners is a one-stop solution for all GED Math test takers. Whether you're starting from scratch or looking to polish your skills, this book is designed for every level of student. Here's why it's a must-have:
Aligned with the 2024 GED Test: We ensure you're studying with the most up-to-date material.
Expertly Crafted: Written by a top GED Math tutor and test expert, offering the most efficient strategies and methods.
Comprehensive Coverage: Every topic on the 2024 GED Math test is thoroughly covered.
Step-by-Step Guidance: Making complex concepts easy to understand and apply.
Innovative Learning Resources: Each topic is linked to a webpage with additional lessons, exercises, and video tutorials.
Extensive Practice: Over 1,500 practice questions, including multiple-choice and grid-in formats, specifically designed to strengthen weak areas.
Two Full-Length Practice Tests: Mimicking the actual exam format to gauge your readiness.
Skill-Building Exercises: Tackle unfamiliar question types with confidence.
Self-Sufficient Study Guide: The book is designed to replace the need for a math tutor.
Deep Dive: Comprehensive eBook with Detailed Solutions
Maximizing Your Study Experience
We're excited to announce an invaluable addition to your GED Math preparation: a comprehensive eBook that complements "GED Math for Beginners." This eBook is designed to enhance your learning experience by providing a full suite of resources, including:
All Practice Questions: Every question from the book is included, allowing for easy reference.
Answer Key: Quickly verify your answers with the provided key.
Detailed Solutions: Gain in-depth understanding with step-by-step explanations for each practice question. These solutions offer insights and effective techniques to address similar problems you might encounter in the exam.
Best GED Math Prep Resource
Free Download for Comprehensive Support
The eBook is available for free download, ensuring you have all the necessary tools at your fingertips. Whether you're revising a specific chapter or brushing up on a challenging topic, this eBook serves as your go-to guide for mastering every aspect of the GED Math test.
Download the "GED Math for Beginners" Solution Manual:
Related to This Article