The Complete Guide to 5 Best GED Math Study Guides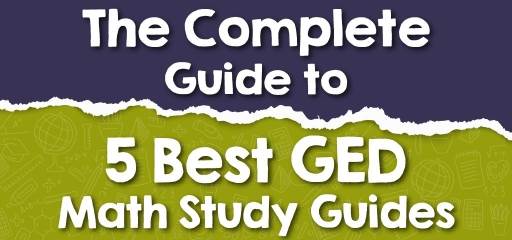 Introduction: What is a GED and what are its Test Components?
The GED is a high school equivalency diploma in the United States. It covers the knowledge and skills that students should have when they graduate from high school.
It is not an alternative to traditional education but is rather one way to show that you are ready for college or career training.
A student can take the GED test in English Language Arts, Math, Science, and Social Studies.
The components of the GED test are:
1) Language Arts (reading comprehension, sentence completion, reading prompt)
2) Mathematics (arithmetic reasoning, quantitative comparison questions)
3) Science (general science knowledge questions)
4) Social Studies (US history, world history; government; economics; geography).
There are many resources out there that can help prepare students for the different portions of the GED but we love math over here. Let's look into the math portion of GED and the best way to prepare for using the top math study guides.
The Absolute Best Book to Ace the GED Math Test
How to Prepare for the GED Mathematics Test with a Strong Guide & Study Plan
The GED Mathematics Test is a challenging exam for many students, but it doesn't have to be. With the right guide and study plan, you can become more confident in your abilities and succeed in the GED Math Test.
The best way to prepare for your GED is with a math study guide and a plan. We'll disclose some of the best GED math study guides in a bit, but planning is also a major part of your success. This is so that you're prepared when it comes time to put your knowledge to the test.
For this, you'll want to plan your study sessions months before your GED. Your guide will help you with the information part, but you must keep up with the learning efforts to see results as well.
Once you develop a study plan, you can then shop around for some of the best GED math study guides to assist you.
Best GED Math Study Guides
GED Math Preparation 2021-2022: GED Mathematics Secrets Study Guide
GED Math Preparation 2021-2022: Mathematics Study Guide with 3 Practice Tests
GED® Math Test Tutor, For the 2021 GED
GED Math Preparation 2020-2021: GED Mathematics Prep Workbook and Practice Test Questions Study Guide Book
Best GED Math Prep Resource
Final Words: Which GED Math Study Guides Is the Best for You?
Choosing the right GED math study guide is very important because it will help you achieve your goal of passing the GED test.
It's tough to choose which one is best for you without knowing exactly what you're looking for and then how to use that to find the perfect math guide.
Some important factors when choosing a GED math study guide are:
The difficulty level. The difficulty level should be challenging enough for you, but not too challenging that it becomes discouraging.
The book's length in terms of the number of pages or topics covered. Some students want to read through the entire book, while other students only want to read specific chapters relevant to their needs.
The format in which the book is written (textbook, worksheets, etc.)
The credential behind the author can help in assessing the quality of the book as well. While not always tale-tell it can help in deciding.
While there are many ways to succeed with your GED, having a proven plan and a good study guide is a sure way to lead to passing the math portion of your GED. Starting with a study plan is simply the first step, use our list to find the best guide, along with the listed important factors to put yourself on track for passing your GED.
Considering all factors, we strongly recommend GED Math for Beginners. It offers everything a test taker needs to ace the GED Math Test.
The Best Books to Ace the GED Math Test
More from Effortless Math for GED Test …
Try our FREE GED Math course to help you prepare for your GED Math test: Ultimate GED Math Course.
Looking for free downloadable math worksheets to help you practice and prepare for your upcoming GED test?
Take a look at our comprehensive GED Math Worksheets to help you review all GED Math concepts.
The Perfect Prep Books for the GED Math Test
Have any questions about the GED Test?
Write your questions about the GED or any other topics below and we'll reply!
Related to This Article