Best Laptops for Students: Lenovo vs. HP vs. Dell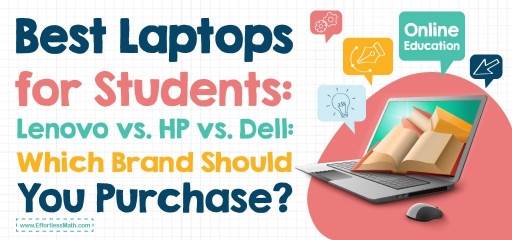 As a student, you'll surely want the best laptop, a workhouse that can help you ace your tests, and when it's time to relax with a movie or a video game, it is perfect for that too.
There are a lot of choices out there, but if you've narrowed your choices to Lenovo, HP, and Dell, then this article gives specifications on the three laptops that will help you choose which one is the best for you.
Lenovo, HP, and Dell laptop brands are recognized for producing quality machines in a wide range of decisions. Choosing between these three is hard, but when you know each of their specifications, it'll help you choose the one that fits your preferences and current needs.
Lenovo, HP, and Dell: Company Profiles
Lenovo
Lenovo is a Chinese-owned technology company with branches in Beijing, China, and Morrisville, North Carolina, USA. The company has been growing gradually since the year 1984 and now has over 54000 employees. From 2013 to 2015, Lenovo became one of the most prominent computer vendors based on unit sales.
The company is known for manufacturing smartphones, TVs, tablets, and a wide range of laptops. And they are also the proud producers of ThinkPad and IdeaPad, which were both global successes.
HP
Also known as Hewlett-Packard, it is an American company founded in Palo Alto, California, in 1939. It held the position of the world's leading PC manufacturer from 2007 to 2013 when Lenovo had the spot through to 2017. In 2017, HP took its rightful place again but not for more than a year. It was transferred to Lenovo again.
Dell
Dell is a US-owned technology company situated in Round Rock, Texas. This reputable company which happens to be one of the world's largest software firms was founded in 1984 by Michael Dell.
The company was privatized in 2013 and has employed more than 100,000 workers worldwide. Dell is known for producing desktops, laptops, and other hardware and for its build-to-order manufacturing and direct sales approach.
Lenovo, HP, and Dell: Their components
Lenovo
One of the essential features you should consider before buying a laptop as a student is battery life. Lenovo laptops use 6-cell batteries, reason for their battery life ranging from 5-10 hours.
The screen sizes of Lenovo range from one to the other, although they like high-resolution screens compared to other laptops in the same price range.
Most Lenovo systems use intel processors, although some Lenovo laptops like Flex 11 also use Media Tek processors. Similarly, in low-budget laptops, dual-core processors while higher specs use quad-core processors.
When it comes to graphics, Lenovo sticks to Intel, using their wide range of HD graphic processors, while their gaming laptops use Geforce processors known for their high performance.
Despite all these components, Lenovo PCs come in slim, lightweight bodies, making them convenient to carry around.
HP
HP laptops are not limited to the variety of processors they use. For instance, low-budget PCs use a 1.8 GHz, i5-10210U processor (4.2 GHz with Turbo Boost), while the more expensive ones are complete with a 1.8-4.0 GHz Intel i7. Their HP Spectre has a 10th Gen Core i7 CPU.
In terms of graphics, they're not limited either.
Its battery life is 11+ hours, and HP laptops are wired to take just about anything. They're durable machines and an excellent choice for students.
Dell
Dell laptops use different processors, including AMD and Intel, but unlike Lenovo, Dell has 3-cell batteries, which means its battery life is low compared to Lenovo and HP.
Gaming laptops and higher-end PCs use quad-core processors. And they also come in a wide range of screen sizes.
Budget models feature 11-inch displays that are true high definition. While the gaming PCs have 17-inch displays with beautiful quality pictures and full HD resolution. For graphics, Dell uses both NVIDIA graphics processors and AMD Radeon, all of which have a strong track record and are industry standard.
Prices
If you are on a tight budget, you can get as low as $139.99 for Lenovo, although gaming laptops cost as high as $2500. HP PCs are costlier, you can get as low as $200, and their gaming PCs start from $2000 with decent graphics and total capacity retail. Dell laptops are cheaper compared to HP.
5 Best Laptops for Students
2- DELL XPS 17
3- Lenovo IdeaPad 3
4- HP Pavilion x360
5- Lenovo Chromebook
Final Words
Each of these brands has specifications that make them better than others. It is up to you to decide which one you need most, as a student.
Related to This Article