Best Laptops for Middle School Students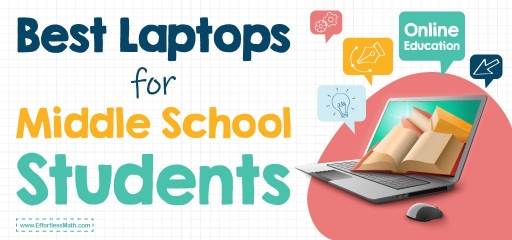 The idea that every middle school student would have a personal computer would have been a crazy one 40, 30, and even 20 years ago.
Courses were taught with pencil, paper, and chalk, and maybe the occasional email was necessary to update parents on their child's progress. Fast forward to 2021, and we live in a new world.
In the modern world of education, especially after the seemingly permanent shift to a hybrid teaching and learning model ushered in by the year 2020, students now spend their days online, both for pleasure and for studying. Having a high-quality laptop then is essential.
A personal laptop is an ideal choice for a middle school student. The mobility provided by a laptop is crucial as it will allow them to use it at home and school, or anywhere else for that matter, no matter their preferred learning environment. The question then becomes, what laptop is right for me?
Some important elements of a laptop are important to consider for middle school students, such as size and portability, storage space, battery life, random access memory (RAM), webcam compatibility, and price.
Most laptops on the market today will check the majority of the required boxes for middle school students, but it's important to understand the strengths and weaknesses of each so that you know which one will best suit your needs.
Let's look at some of the most popular laptop models for middle school students below.
MacBook Air
Part of the Apple family, Macbook's, no matter the model, are the most popular choice among young and old. And fair enough! Apple is a world leader in the design, making the Macbook experience simple and pleasing to use.
The Macbook Air is the lightest and most portable of the Macbook lineup, weighing just 2.8 lbs. It features a 13.3-inch LED-backlit display, a 256GB SSD (storage), 8GB RAM, and up to 15 hours of battery life. It also has a 720p FaceTime HD camera for all of those zoom classes and breakout rooms, and it comes in Gold, Silver, and the classic Space Grey.
At roughly USD 970, the Macbook Air is on the pricier side of the spectrum of laptops, but most would say it's worth it.
Lenovo IdeaPad 3
If you're looking for the best bang for your buck, the Lenovo IdeaPad 3 may be the best laptop for you.
This laptop weighs in at just under 4lbs and contains a 15.6 inch HD touchscreen display, 8GB RAM, 512GB SSD (storage), and up to 7 hours of battery life. All of these stack up to the Macbook Air, aside from the battery life, and it comes in at just under $690.

Lenovo is known for creating exceptional value for a reasonable price, and the IdeaPad 3 is no exception.
Google Pixelbook Go
The Google Pixelbook Go is another great option for middle school students. It's one of the lightest laptops on the market weighing in at just over 2lbs, and a 13.3-inch fully touch screen HD display.
The Pixelbook Go has a reasonably durable and long battery life at 12 hours, meaning you should have no worries about it dying during class, assuming you charge it as the average laptop owner does.
You also have some choice when it comes to the Pixelbook Go. You can choose between models with 6GB or 8GB RAM, and 64GB, 128GB, or 256GB of hard drive storage. Of course, these all vary in price, but it's nice to know that you have options. The base model with 8GB RAM and 64GB storage goes for roughly $700 and scales accordingly.
The only concern with this model is that it runs on the Google Chrome operating system, meaning that it would run any Microsoft programs. If this is an issue for your specific school program, then you should consider this before purchasing.
Acer Aspire 5 Slim Laptop
If you're on a budget, then this is the laptop for you. You will see lots of other middle school students, even university students, using this laptop as you get a whole lot of computers for a very reasonable price.
The Acer Aspire 5 Slim goes for just around $400 on Amazon, which is the most inexpensive laptop of the ones covered in this article, and it arguably provides the most value per dollar.
It has a large 15.6-inch display, 128GB storage, a backlit keyboard, 7.5-hour battery life, and it runs on a Windows operating system.
If there is a red flag when it comes to this laptop it is the 4GB of RAM. You won't be able to run as many programs in as efficient of a manner as the rest of the laptops discussed here, but that may not matter depending on your curriculum and how much you will be using the laptop. Nevertheless, this is an important consideration in your buying process.
Final Words
I hope this helps in your search to find a laptop for your middle school studies. There is a laptop out there for everyone, no matter your circumstances or budget. The most important thing is not the technology that you use, but rather how much attention and effort you put into your work. Happy studying!
Related to This Article