Everything You Need to Know to Choose the Right Laptop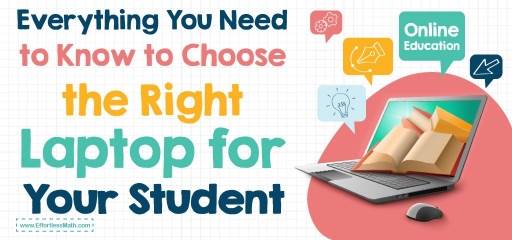 Selecting a laptop that meets the right needs but doesn't cost more than necessary is a difficult balance to make.
With many options and several different types, some factors are most important when choosing which laptop is right for your student. Important factors to consider are cost, memory, operating system, and portability.
Cost
A laptop is a large ticket item that can break a budget if it is not done carefully. When setting a budget it is important to remember that more is not always better, and purchasing a computer that has more capabilities than you need can be a waste.
Many gaming computers are not well suited for regular classes and schooling, as they have a focus on improved graphics cards and faster speeds, while a laptop that is good for students will need to be focused on ease of use and compatibility with the programs and systems in use by that school. These two types of laptops are set up completely differently and have different costs related to that.
A premade budget can help find the right laptop. It can rule out many of the more expensive laptops, leaving those that will be a better fit.
The least expensive will have the fewest options and often do not connect as quickly as others. Choosing a midrange laptop that has storage, connectivity, and wifi will provide the best value for the cost.
Storage
As the popularity of Chromebooks and other low-storage, smaller laptops grows, a wider range of storage and accessibility is available for laptops.
Though some are made with little storage to hold the apps and the connections to the internet and any printers, other full laptops have a range of storage that can go up to 1TB and will keep all assignments until they are no longer needed.
For a student laptop who keeps most of their tasks online, or is at a school that uses Google Classroom and Docs, a Chromebook can be a good choice. There are several makes and models, so there is a good fit for almost everyone.
If they are in a design or other course that involves artistic programs and creativity it may be worth considering an Apple brand laptop. They provide crisp screens with strong colors and are well-suited to photos and videos.
For students who store all their work and other items on their laptop itself, a larger GB for storage is necessary, and with many brands and memory cards available, they are available with up to 1TB of storage, which is enough room to move with them into even a writing career.
Operating Systems and Programs
Schools often use the same set of programs throughout all of their schools. Purchasing your student a laptop that already uses or is ready to use these programs will save a lot of confusion and frustration later.
It is easy to determine what programs a school uses through their newsletters or simply contacting the office and having a compatible computer makes things easier for everyone.
They will require a word processing program such as Google Docs or Microsoft Word, and a web browser as basics to start, and schools will have an idea of any other helpful programs to invest in.
5 Best Laptops for Math Students
2- Acer Swift 3
3- Dell XPS 13
4- Lenovo Chromebook
5- LG Gram 17
Related to This Article