GED Testing Accommodations and Support for Students with Disabilities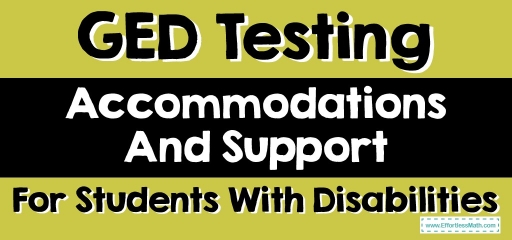 Taking the GED test is frightening on its own as a lot of students will agree that the test is quite hard. Taking these tests with disabilities or conditions that impair your ability to take this test can make sitting for it even nightmarish. But you don't need to worry about this any longer. Some accommodations make sitting for the exam more comfortable and less difficult.
Extended time, more breaks, and even a separate room are some of the advantages this accommodation allows you to enjoy as long as it is linked to your disability. These accommodations are available for students taking the GED test and the HiSET and TASC tests.
The Absolute Best Book to Ace the GED Math Test
What Disabilities Have Access to these Accommodations?
If you don't have a documented disability, then sorry, you don't have access to these accommodations. Some of these disabilities are:
Attention-Deficient/ Hyperactivity Disorder(ADHD)
This is most common, and some undiagnosed students often drop out of school because of it. It is usually associated with difficulties concentrating, focusing, and sitting still. For them, the test usually is more challenging compared with other students.
To have access to accommodations for ADHD, you'll need documentation from your medical doctor, a psychiatrist, or a psychologist who specializes in ADHD. Coupled with this is information about your history and symptoms. All these will help determine the accommodations you have access to.
Learning and Cognitive Disorders (LCD)
The learning and cognitive disorders that can make testing complicated include; autism, dyslexia, dysgraphia, dyscalculia, and other processing disorders. Autism is the most common LCD. People suffering from this usually have difficulty with speech, social skills, nonverbal communication, and processing and need accommodations to perform well in the test.
Dyslexia involves difficulty with reading, dysgraphia with writing, and dyscalculia with maths. Students who suffer from these express jumbling together of words and letters, difficulty with spelling, or even solving a simple math problem.
As with ADHD, students seeking accommodations under this category have to provide a diagnosis and documentation of the history and symptoms of their disorder from a licensed medical doctor specializing in that specific disability.
Some of the accommodations for students with LCD include a private testing room, extra testing time or unlimited testing time, a proctor that will help read out the questions and answers, and other accommodations based on symptoms and history.
Best GED Math Prep Resource for 2022
Physiological and Psychiatric Disorders (EPP)
Chronic physiological conditions like anxiety, depression, and personality disorders can make testing severely difficult. EPPs can result in blackouts, panic attacks, or memory loss. Students requesting accommodations under EPPs are expected to submit diagnoses and documentation from certified medical practitioners in the field.
Physical Disabilities and Chronic Health Conditions (PCH)
Hearing impairments, visual impairments, chronic or severe pain, diabetes, chronic fatigue, and Crohn's disease pregnancy require special resources. Accommodations are available based on the symptoms and history from a certified medical practitioner and submitted together with other documents.
Even if you don't qualify for these accommodations, resources are still available to all students taking the GED that might prove helpful to you. For instance, you can change the text size, and use the text highlight function, and there are eleven different color schemes to choose from for the text if you undergo color blindness.
The Best Quick Study Guide for the GED Math Test
How to Apply for Accommodations?
Accommodations are specific to students' disabilities, so the accommodation you're requesting must be based on your disability. For the TASC or HiSET testing accommodations, you'll have to fill out the request form for special testing.
The first step is creating a MyGED® account on GED.com to request accommodations on GED. On the website, there's a question: "Do you need to request accommodated testing conditions for a documented disability?" Once you answer yes to the question, the system will redirect you to a link to apply for accommodations.
Is there Test Prep for Students with Learning Disabilities?
There are some test prep resources available online to make studying easier for patients with learning disabilities. They help you learn at your own pace, enabling you to study at home, provide audiovisuals that make the learning process easier, and have other accessibility factors like subtitles and screen reader compatibility.
Even some students without learning disabilities will instead use this test prep to make studying easier for everyone.
Helpful Tools Acceptable at Test Centers
Some test centers provide resources kike wheelchair access, scratch paper, and even your preferred seating position in the room. Also, you're allowed to bring along your resources the center can't provide, like earplugs, prescription medicine, service animals, medical devices, and other helpful things. You can contact your test center beforehand to confirm the equipment available and what you're allowed to bring.
Alternate Test Versions
It is possible to take HSE tests in different languages (Spanish or English), computer-based or paper type, large print, audio, braille. All these are to ensure that all students can write the test in an atmosphere conducive to them.
High School Equivalency Tests
The Perfect Prep Books for the GED Math Test
Related to This Article