A Comprehensive Collection of Free GED Math Practice Tests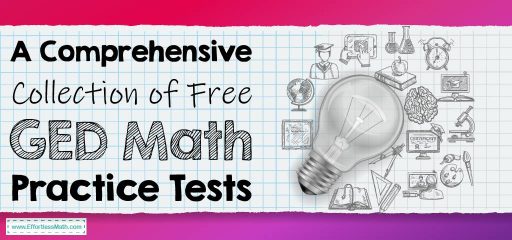 The GED is known as Graduate Equivalency Degree or General Educational Diploma. This is one of the important tests for students who did not complete high school.
They can get an official document by passing this exam. It shows they have completed a high school level of education.
If you are worried about how to study and pass the test, we suggest you study this essay to get familiar with the GED test step by step.
We prepare a complete list of free practice tests for you to get a better score on this exam. These tests are not completely the same as real GED tests, but they are helpful to prepare you for the exam.
There are some questions about the GED test among students, so teachers have tried to answer them, and you can study them before going through the test.
The Absolute Best Book to Ace the GED Math Test
How to prepare for the GED math test?
The test contains 46 questions and students have 115 minutes to answer the GED math test. These questions are divided into two parts.
The first part includes 5 questions that you will answer without a calculator. Then, there are 41 questions in the second part that you are allowed to use a calculator while completing. It's not necessary to bring a calculator, and there is a TI-30XS on-screen calculator for some questions.
The questions are comprised of different types such as multiple-choice, matching, multiple-select, fill-in-the-blank, drag-and-drop, and table entry.
To pass the test, students need to get a minimum score of 145 points. This means they should answer at least 45% of the questions correctly.
GED Math covers the following topics:
Best GED Math Prep Resource
How to study for the GED Math test?
You may get nervous if you do not have enough information about how to study and where to start. But you are not alone in this situation. At first, you must plan to practice math every day, and then you should always find new ways to enjoy it.
We decided to make a complete guideline for you to know GED math better and get the best score on this test.
There are many books, websites, online classes, and online practice tests about the GED, but do you think all of them are reliable? Of course not. You can save time and money by finding the best resources.
One of the best books is GED Math for Beginners. It is a perfect book to help you overcome stress. It is a good substitution for teachers.
If you start to read late, we will also have another suggestion for you to study in less than 30 days:
There is another comprehensive book that covers all GED math topics:
There is another book that reflects the 2022 test guidelines. It contains a lot of math tests and it is 100% aligned with the 2022 GED test:
You can find other comprehensive books about GED math tests in the top 10-GED math prep books
You need to feel productive and motivated, so set yourself goals and try as hard as you can to achieve them. But remember to appreciate yourself after passing each level on your way to taking the GED test. It is important to know that goals have specific features:
Attainable: This means setting reasonable goals according to reality and your limits. It is better to have a schedule and determine the amount of time you can spend per week studying. The goals are not expected to be so hard to achieve or so easy.
Measurable: This means the goals should be specific enough to be measured. Something like "I'll study ten hours this week" or "I'll complete the Geometry unit this week" are measurable, but something like "I'll try to be better at basic math" is not specific.
Within your control: This means it is essential to have the possibility of controlling your goals. If you have in your mind that "I am going to pass my GED math test" is not within your control. Instead, something like "I'm trying hard and taking GED math" is within your control. Because the result is unpredictable, and you don't know whether you pass or not, so you should try hard to get ready. But it is not necessary to put too much pressure on yourself.
You may learn new things during your study so take notes. Besides listening, reading, or seeing, you need to write too. With the help of writing, you transfer information into long-term memory.
If you don't know how to take notes, we will help you. You can circle, underline and highlight important information and organize them with different colors. We suggest different colors because it helps to memorize and remember easily.
The most important part is to review. Find the keywords in your notes and study. Then identify those parts that you have problems with and study more.
Students usually compare themselves with their classmates, but this is a big mistake. The quality is more important than the number of hours you study for. Study on your schedule and focus on topics where you need more practice. If you study too quickly, you may miss some essential information. Remember in the process of learning that patience and concentration are more helpful than rashness.
The role of attending class is not ignorable. Sometimes the topics may be difficult and books are not enough for you, so a teacher is the best help. You require someone to correct you and explain the difficult parts.
Create a distraction-free environment
Mathematics requires more focus, so it is better to study in a quiet place. Don't forget to put away your cell phone and other distracting objects during your study. A clean environment can also improve your concentration. The place should have proper lighting too.
The Best Quick Study Guide for the GED Math Test
8 Best Websites for GED Math Practice Tests
This is one of the most comprehensive websites to get prepared for the GED test.
It might be confusing to find related formulas and math concepts for students. The GED also covers different topics, so the GED math test gives you some most commonly used math formulas about geometric measurement and certain algebra concepts. But this isn't efficient. You should recall many formulas on the test. Therefore, this website prepares GED Math Formulas for test-takers. With the help of this list, you have access to the essential formulas that you must learn before test day.
Besides that, students may need to test their readiness. If you think the GED is too hard and you should practice more, the GED Mathematical practice tests and Concepts are available for you.
There is a website where you can find the GED math sample tests free and then you receive a personalized plan. It helps you know what types of questions are on the real GED test. It also answers different questions and provides a GED math study guide for students.
This can prepare you for the test by using GED flashcards, study guides, and online courses.
The flashcards cover different mathematical topics and are a proper way to memorize important issues by repeating them.
If you sign up on the Website you will get access to many GED practice tests. They are 100% aligned with the GED test, but it's not free.
Before taking any kind of exam, you should test your readiness with some good questions. Here are some free GED practice tests. It contains not only multiple-choice but also other types of questions.
Some students may be short on time, so free flashcards can help them find the areas they need to brush up on. Sometimes test-takers are stressed and need an in-depth explanation.
With the help of a study guide, they get familiar with the GED. This can help you pass the test with a good score.
Gedmathlessons has many free Online GED math test prep lessons. There are some useful videos about all GED topics. A teacher explains the lessons in detail to students. Then you can take quizzes about the topics you've recently learned. They also prepare a practice problems worksheet to download.
This website provides you with free GED practice tests. Besides that, you have access to several online classes. But if you want more practice, you can use the paid services.
Do you need online math resources? Have you ever tried watching math videos and learning?
This website is available to teach you the different topics of GED via videos. They also have some great worksheets that help you to prepare for the real test
Maybe you get nervous about how to get the best score on your GED. Test-guide contains several free GED practice tests with a complete answer key. Doing these free tests is the best way to prepare for the actual exam. It's time to put away the stress and start answering the questions.
A Comprehensive Workbook to Prepare for The GED Math Test
13 GED Math practice tests
GED worksheets
The GED courses
It might be not easy for everyone to simply study books and get ready for the GED math test. Some topics are complicated and require a teacher, classes, or a helper. Studying via cell phone, tablet, or laptop makes this process easier. It is available when and where you want.
Therefore, if you are looking for free or paid courses, you will find many of them here.
The Perfect Prep Books for the GED Math Test
Related to This Article