Best GED Math Prep Books in 2021
1- GED Math for Beginners: The Ultimate Step by Step Guide to Preparing for the GED Math Test
2- GED Test Prep Plus 2021: 2 Practice Tests + Proven Strategies + Online (Kaplan Test Prep)
3- GED Test Prep 2020 & 2021: GED Secrets Study Guide All Subjects, Full-Length Practice Test, Step-by-Step Preparation Video Tutorials
4- GED Study Guide 2020 and 2021 All Subjects: GED Test Prep 2020 and 2021 with 2 Practice Tests
5- GED® Math Test Tutor, For the 2021 GED® Test, 2nd Edition
6- The GED Tutor Book: GED Study Guide 2021 All Subjects with Practice Test Questions
7- GED Math Exercise Book: Student Workbook and Two Realistic GED Math Tests
8- GED Study Guide 2020-2021 All Subjects: Test Prep Book with Practice Questions for the General Educational Development Exam
9- GED Math Study Guide 2020 – 2021: A Comprehensive Review and Step-By-Step Guide to Preparing for the GED Math
10- Ace the GED Math in 30 Days: The Ultimate Crash Course to Beat the GED Math Test
What is the GED Test?
The General Education Development (GED) is a high school equivalence test administered in 50 states in the United States. This test is for those who have not finished high school and are looking to continue their advanced education and is equivalent to a high school diploma. The GED is a computer-based test that exams test-takers in the Reasoning Through Language Arts, Mathematical Reasoning, Social Studies, and Science sections. One of the conditions for taking the GED test is that the test taker must be at least 16 years old and not currently enrolled in high school.
On each of the four modules of GED subtests, it is essential to secure a minimum score of 145. Scoring is calculated on a scale of 100 to 200.
The GED Mathematical Reasoning Test is a 115-minute test that has two parts: The first part consists of 5 questions where the calculator is not allowed. The second part contains 41 test questions. In the second part, the calculator is allowed.
What does the GED Math test assess?
The GED math test evaluates your insight and aptitudes in various numerical subject fields like Algebra, Arithmetic, Geometry, and Data Analysis.
How long is the GED Math test?
You get 115 minutes (one hour and fifty-five minutes) to finish the GED Mathematical Reasoning subtest. The test comprises two sections with a break in between.
The first part incorporates five questions, you are not permitted to use a calculator however, in the second part, you can utilize your TI-30XS scientific calculator or the on-screen provided calculator.
High School Equivalency Tests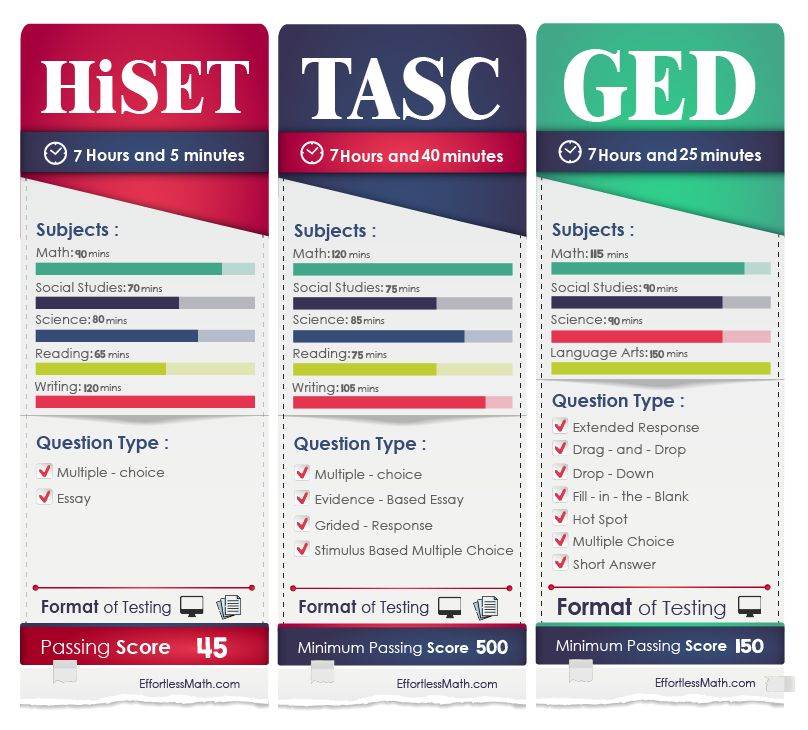 The Best Books to Ace the GED Math Test