Accuplacer Testing Accommodations for Disabilities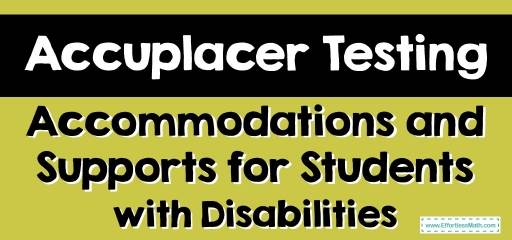 Accommodations for Accuplacer Test-Takers
Individuals obliged to take the Accuplacer tests may have a diagnosis that qualifies them for test or testing process accommodations.
Testing modifications, alternatively referred to as accommodations, are determined by the Accuplacer test's location. This implies that individuals intending to take one or more Accuplacer tests must check with their high school, college, or university to establish whether they qualify for accommodations.
High school students who take the Accuplacer through their high school and qualify for test accommodations for high school classes may have a streamlined qualification process.
However, students taking the test at a college or university may be required to meet with officials from Disability Support Services, complete an accommodation application, and present documentation of their diagnosis.
The Absolute Best Book to Ace the Accuplacer Math Test
Who can Receive Accommodations?
Accommodations are often made for students who have been diagnosed with a disability but may also be made for those who have a medical condition.
In addition, English Language Learners are qualified for accommodations on certain standardized examinations, such as the ACT, and should check with the school providing the Accuplacer to determine their eligibility.
Types of Accommodations Offered
Certain tests or testing modifications are frequently administered to students who qualify for accommodations.
Adjustments to the Test Format: In some instances, an individual may be eligible to get modifications to the text itself. For instance, if a student is legally blind or has a visual disability, certain assessments are offered in Braille. Others may be eligible for a test in large print.
Individuals who qualify for testing environment adjustments may be allowed to test in a small group or have distraction-reducing improvements performed. Others may be eligible to have their responses typed for them.
Extra Time: Certain assessments provide students with more time to complete their exams. This is not an issue for the majority of Accuplacer tests, as the majority of tests do not have a time limit. However, the test center may have a time limit.
Individuals who may require additional time to take the test should contact the high school, college, or university where they will be taking the test to determine if they need to apply for additional testing time.
Accuplacer Study Materials
Individuals preparing for Accuplacer tests can take advantage of trustworthy self-paced study courses that enable them to work through the content at a pace. These courses are designed to walk students through all of the material covered on the exam.
Reform
Testing accommodations are frequently included as part of test-based educational policies and reforms to ensure that all students, including those with special learning needs and disabilities, have equitable access to a high-quality public education, which includes how students demonstrate their knowledge on tests and other assessments.
Numerous regulations, including the Individuals with Disabilities Education Act, the Americans with Disabilities Act, and state-specific special-education legislation, mandate schools to provide modifications and offer additional services to kids with exceptional needs.
Best Accuplcer Math Prep Resource
More from Effortless Math for Accuplacer Test …
Need a FREE Accuplacer Math Course to help you prepare for your test?
Check out The Ultimate Accuplacer Math Course.
Looking for a full-length Accuplacer Math Practice Test?
Check out our Full-Length Accuplacer Math Practice Test.
What do you know about Accuplacer Scores?
Have a look at How is the ACCUPLACER Scored?
The Best Books to Ace the Accuplacer Math Test
Have any questions about the Accuplacer Test?
Write your questions about the Accuplacer test or any other topics below and we'll reply!
Related to This Article