How Is the ACCUPLACER Test Scored?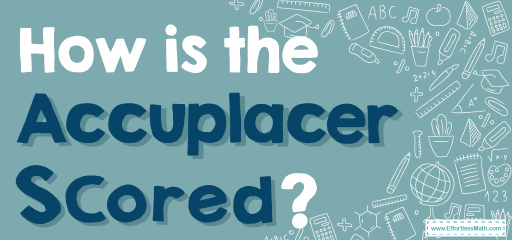 The ACCUPLACER exam is a test used by US colleges and universities to assess a student's readiness for introductory-level, credit-bearing college courses. If you want to start taking credit-earning courses as soon as possible, then you need to earn good ACCUPLACER scores. But how is the ACCUPLACER scoring system? Join us to answer this question.
The Absolute Best Book to Ace the Accuplacer Math Test
The ACCUPLACER score range for reading, writing, arithmetic, quantitative reasoning, algebra and statistics, and advanced algebra and functions is 200-300. In this ACCUPLACER score range, there are five score bands or smaller score ranges as defined by Skills Insight statements. The Skills Insight Statement, developed by the College Board, divides the ACCUPLACER test scores into the following five score bands:
200–236
237–249
250–262
263–275
276–300
Each university determines the minimum scores you must earn to bypass remediation classes and start earning universal credit.
The four ACCUPLACER ESL tests use different scores. The Language Use, Listening, Reading, and Sentence Skills ESL tests each have a score range of 20–120, with 120 being the highest possible score.
There is also the WritePlacer essay test and the WritePlacer ESL essay test, which use a score range of 1-8 and 1-6, respectively. Just like other ACCUPLACER tests, the higher the number, and the better score.
We recommend that you get a score of 263 or higher. This is because the students with the highest scores in the two bands show an understanding of the complex skills you need to succeed in college courses.
The Best Books to Ace the Accuplacer Math Test
Related to This Article