How to Prepare for the Next-Generation ACCUPLACER Math Test?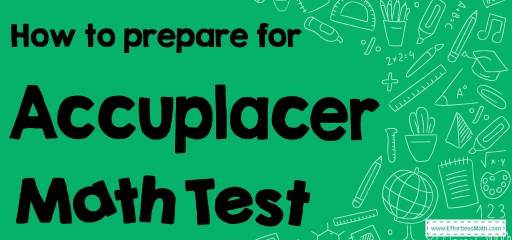 The Next-Generation ACCUPLACER test is an assessment system for measuring students' readiness for college courses in reading, writing, and mathematics.
The test is a multiple-choice format and is used to precisely place you at the correct level of introductory classes.
The Next-Generation ACCUPLACER uses computer-adaptive technology and the questions you see are based on your skill level. Your response to each question drives the difficulty level of the next question.
There are five sub-sections on the ACCUPLACER test:
Arithmetic (20 questions)
Quantitative Reasoning, Algebra, And Statistics (QAS) (20 questions)
Advanced Algebra and Functions (20 questions)
Reading (20 questions)
Writing (25 questions)
The ACCUPLACER test does NOT permit the use of personal calculators on the Math portion of the placement test.
ACCUPLACER expects students to be able to answer certain questions without the assistance of a calculator. Therefore, they provide an on-screen calculator for students to use on some questions.
The Absolute Best Book to Ace the ACCUPLACER Math Test
How to Study for the Next-Generation ACCUPLACER Math Test?
If you are a new college student, it is important to know that for some new college students, the first step is to enroll in suitable courses for their skill level is the ACCUPLACER test.
This test is a placement test that determines whether you are ready for credit-earning courses or whether you need to modify several classes. This is why this test is important for some colleges. So this test can play a decisive role for you.
If you do well in the ACCUPLACER test, you can start credit-earning courses right away. Therefore, for many new students, this test can be a little stressful, especially the math part. But do not worry, you can pass this test by following simple tips.
Here we will guide you with simple but important tips to prepare for this test.
1. Choose your study program
Many useful ACCUPLACER Math books and study guides can help you prepare for the test.
All major test preparation companies have some offerings for ACCUPLACER Math, and the short-listing of the best book ends up being a puzzling phenomenon.
There are also many online ACCUPLACER Math courses.
If you just started preparing for the Accuplacer test and you need a perfect ACCUPLACER Math prep book, then ACCUPLACER Math for Beginners The Ultimate Step by Step Guide to Preparing for the ACCUPLACER Math Test is a perfect and comprehensive prep book for you to master all ACCUPLACER Next Generation Math concepts being tested right from scratch.
It will help you brush up on your math skills, boost your confidence, and do your best to succeed on the ACCUPLACER Math Test.
This one is an alternative book:
If you just need an ACCUPLACER Math workbook to review the math topics on the test and measure your exam readiness, then try: " ACCUPLACER Math Exercise Book 2021-2022 Student Workbook and Two Full-Length Accuplacer Math Practice Tests"
Or if you think you are good at math and just need some ACCUPLACER Math practice tests, then this book is a perfect ACCUPLACER Math test book for you: "5 ACCUPLACER Math Practice Tests Extra Practice to Help Achieve an Excellent Score"
Want to take the ACCUPLACER Math test in a few weeks or a few days? Then try: "Prepare for the ACCUPLACER Next Generation Math Test in 7 Days: A Quick Study Guide with Two Full-Length ACCUPLACER Math Practice Tests".
This quick study guide contains only the most vital math concepts an ACCUPLACER Math test taker will need to succeed on the ACCUPLACER Math test.
You can also use our FREE ACCUPLACER Math worksheets: ACCUPLACER Math Worksheets.
Have a look at our FREE ACCUPLACER Math Worksheets to assess your knowledge of Mathematics, find your weak areas, and learn from your mistakes.
ACCUPLACER Math FREE Resources:
2. Having a positive attitude toward mathematics
You may think this is not a big deal, but a positive outlook on math can make the difference between success and failure on your test.
A negative outlook causes you to remain in this vicious cycle: negative view of math→ laziness in learning →lack of proper learning of math→ poor performance in math tests →more negative feelings about math. So let's break this vicious cycle here.
Start over and this time look at math with a positive attitude and find it a fun challenge. You will find that you can gradually get better at math and even enjoy it.
3. Having a better understanding of the concepts of the ACCUPLACER Math test
For purposeful study, you must first know what concepts you are dealing with in this test.
In the ACCUPLACER Math test, you are dealing with Arithmetic, Quantitative Reasoning, Algebra, and Statistics, Advanced Algebra, and Functions.
In the next step, you should categorize these concepts into two categories: basic concepts and more complex concepts to make reading easier for you.
First, learn the basic concepts of the test and then you can study the advanced concepts. This will make reading easier for you, save you from confusion, and speed up your studying process.
4. Having a daily schedule and sticking to it
Improve your long-term study habits. Making and keeping a good study habits is essential for you.
You need to make studying an integral part of your day. To do this, set a schedule and stick to it. You can start with a small study time and gradually increase it.
Another way is to divide the study time into smaller parts during the day.
The more time passes, the easier and more controllable this program becomes for you. After a while, this program becomes an inseparable part of your day. It will be very unlikely to return to your former bad study habits.
5. Choose the best way to prepare yourself
First of all, you need to know that it's up to you which way you choose to prepare.
Maybe a way is suitable for a test taker, but it doesn't work for you, and vice versa.
There are different ways to learn depending on your educational background. If you feel that your math base is strong and you are familiar with the basics of math, you can prepare for the ACCUPLACER test through self-study.
You can use ACCUPLACER prep books and online resources for this purpose. In this method, you may lose motivation after a while.
If so, you can hire a private tutor. Although this method of learning is expensive if you have a good tutor, you will be more motivated and you will become more familiar with the important tips and details of the ACCUPLACER test.
Another method of preparation is participating in prep courses and prep classes for the ACCUPLACER test. This method may be right for you if you feel you want to prepare for the test with other test takers and the competitive environment increases your motivation to study better.
Best ACCUPLACER Math Prep Resource
6. Know when and how to use formulas
Although the ACCUPLACER math test provides math formulas for some questions, it does not include all the formulas you need. This means that you should memorize many of the necessary formulas.
Here you can find all the formulas for the ACCUPLACER math test, as well as some explanations on how to use them and what they mean.
Try to memorize the formulas as much as you can. This will speed up your action in the ACCUPLACER test.
7. Review what has been learned through simulated tests
The next step is to take practice tests. These tests can be online or written and should be taken when you have mastered the concepts of the test.
You can use the sample questions provided on the ACCUPLACER website, which are free and you can download them in pdf format.
It is best to start your test with the sample questions available on the CollegeBoard website because CollegeBoard administers the ACCUPLACER test and provides standard sample questions.
In this sample question, you will see questions that will be similar to those in the ACCUPLACER test. This will help you a lot because knowing the format and contents of the test is the first step to getting an excellent score on the ACCUPLACER test.
You can also download the ACCUPLACER study app. This app is a free study app for the ACCUPLACER test that can be installed and used on a computer, tablets, and smartphones.
It provides practice tests that are just like the actual ACCUPLACER test. The app reports the score immediately after the test. It also gives you explanations for right and wrong answers.
8. How can you register
The ACCUPLACER test is offered by several high schools, colleges, and universities.
Each institution has a special method for registration. In some colleges and universities, you can attend the exam, register, and take the ACCUPLACER test.
The start time of the test may be provided on the site of some institutions. According to this schedule, you can take the test.
In some institutions, it is possible to register online in addition to the schedule. You can register by visiting the site of these institutions, according to your desired time.
If there is no test schedule or registration form on the site, you can contact the institute by phone or email and receive your opinion.
9. Follow the tips on the day of the test
The ACCUPLACER test is offered at universities, colleges, and high schools.
Each test center has its own guidelines on what to bring with you to the test.
One of the things you should bring with you is a photo ID. However, this may not be necessary for high school students.
Contact the school where you will take your ACCUPLACER test to make sure you know what to bring and what items you are not allowed to take with you.
If you have a specific disability or medical condition, contact your school test center to find out what test sites are available.
Before the test, make sure you know the test site well. You can even go there the day before the test to see how long it takes to get there.
On the day of the test, try to be at the test site 30 minutes earlier.
The difficulty of the questions in this test varies according to your ability to answer the questions, which means that for each correct question you answer, the next question will be a little more difficult.
You will get points for each correct question you answer.
If you do not know the answer to the question, make your best guess. In this way, you answer each question and move on to the next one that you may know the answer to with confidence.
In the ACCUPLACER test, only WritePlacer is timed. All other ACCUPLACER exams give you unlimited time to complete the tests.
The ACCUPLACER test does not allow the use of personal calculators in the math section of the test.
ACCUPLACER expects students to be able to answer specific questions without the help of a calculator. Therefore, they provide an on-screen calculator for students to use in some questions.
10. Check your score reports
One of the advantages of this test is that the test score is ready as soon as the exam is over. So after the test is over, you can see your score by clicking "degree check".
11. Interpret your score
ACCUPLACER exams are held online.
Immediately after the test, the score related to the test will be provided to the test takers. This means after completing the test, you will know if you qualify for credit-earning.
In addition to test scores, there is other information in the test taker's score report, including messages from the university or college and additional information about course placement.
The good news about the ACCUPLACER test is that you will not be failed because it is a placement test.
The purpose of this test is to show if you need to take developmental classes or not.
Getting a good result on the ACCUPLACER test has the advantage that you probably will no longer have to take developmental courses and can enter the introductory courses directly. As a result, taking the ACCUPLACER test will save you time and money.
Each university determines what the "good" ACCUPLACER test score is. You must score at least 237 or higher.
The best way to interpret your ACCUPLACER scores is to talk to an academic advisor about your college or university's placement score requirements.
The Best ACCUPLACER Quick Study Guide:
ACCUPLACER FAQs:
Here are Some common questions about the ACCUPLACER test:
How do I take the ACCUPLACER test online?
This test is not available online. This test must be held at an approved testing location.
What is the ACCUPLACER test?
ACCUPLACER is a computerized placement test used by many colleges and technical schools to assess incoming student skills.
Is the ACCUPLACER test hard?
This is an adaptive test, which means that the more correctly you answer, the more difficult the questions become.
What happens if you fail the ACCUPLACER test?
Failure to take the exam means that the community college will require you to take at least one remedial no-credit course before they allow you to enroll in a credit course.
What is a good score on the ACCUPLACER?
Each university determines what the "good" ACCUPLACER test score is. You must score at least 237 or higher.
Can you fail the ACCUPLACER test?
No one succeeds or fails in the ACCUPLACER exams, but you must finish the exam with your best effort.
What is the average score on the ACCUPLACER test?
Scores of 221 to 250 are average, while scores between 250 and 270 are normally considered above average.
Can I use a calculator on the ACCUPLACER test?
You are not allowed to use personal calculators in the math section of the test.
How do I check my ACCUPLACER score?
You should click on "Degree Check!" at the bottom left-hand corner of the page. Then a page containing your scores and other information will appear.
How many times can I take the ACCUPLACER?
Some students can take the ACCUPLACER test four times. Still, other schools allow students to take the test a maximum of three or four times in a one-year period, provided they wait at least two weeks between taking the test.
How long does the ACCUPLACER take?
The ACCUPLACER reading and math tests are un-timed and the writing test is a 50 minutes timed test.
How much does the ACCUPLACER test cost?
This price is set by the administering institution. Some colleges charge a registration fee, but there may be an extra fee, which is usually around $ 15 to $ 50.
Who needs to take the ACCUPLACER test?
If you do not have ACT / SAT scores or your math scores are more than two years old, you should take the ACCUPLACER test. The math scores expire after two years.
Looking for the best resource to help you or your student succeed on the ACCUPLACR Math test?
The Best Books to Ace the ACCUPLACER Math Test
Related to This Article