4 Best Printers for Teachers in 2023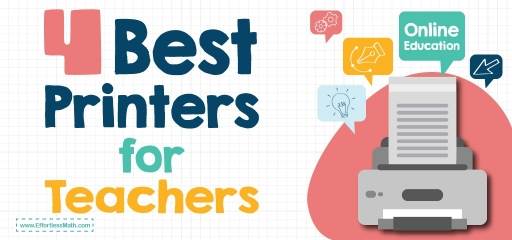 Teachers have access to school printers for mass printing, but it is still preferable to have one nearby if they wish to prepare a lesson ahead of time.
Is printing, however, expensive? Well, it all depends on your personal preferences. Here are the top printers for teachers in 2023 if you're looking for a great printing solution:
1. All-in-One Wireless Classroom Printer: HP OfficeJet 3830
HP is a well-known brand in the technology business. And their items are always excellent. As a result, this printer was chosen based on its general usability, cost, and multifunctionality.
HP OfficeJet 3830 isn't just a printer. Because you can scan, copy, fax, and do so much more with it. Teachers will like the fact that it is also portable.
As a result, you can keep it in your workplace and then quickly throw it in your bag and take it home when you need it. The usage of wireless technology adds a lot of value to this.
Highlighted Features:
Lightweight and portable.
Touchscreen display and easy-to-use interface.
It can be utilized with a smartphone and is wireless.
Get two months of free printing when you sign up for HP's quick ink plan.
2. Brother HL-L3210CW: Made for School
For its economical and capable devices, Brother has always been a fan favorite. They also provide the most incredible color printer for teachers looking for affordable solutions for teaching.
If you want colorful infographics, graphs, and photographs on your website, this is the way to go because you'll receive results that are not only rich and brilliant but also cover a wide variety of hues. This benefit will make your work much more interesting, and your students will concentrate better as a result.
Highlighted Features:
Prints on an array of sizes and types of paper.
High-yield toner is included with the laser printer.
The toner has a saving mode.
Wireless access to a wide range of devices.
3. Canon TS8320 All-in-One Wireless Color Printer Designed for Homeschool
Canon is one of the most powerful imaging technology brands. They've changed the way we look at images, both printed and digital, since their birth. And, at a reasonable price, you can't expect much less from their printer. You can use this printer regularly.
The trendy design of this printer is one of the first things we noticed about it. It comes in three distinct hues and has a stylish style. The one in red is a unique touch that we haven't seen before, but we think it will appeal to a wide range of people.
Highlighted features
The printer has an editing and printing app for both Android and iOS.
It's available in three different styles.
The LCD touch panel is large and easy to see.
It has a memory card slot and is compatible with cellphones.
4. Epson EcoTank ET-4760: Teacher's Printer
The Epson no-cartridge deal is one you'll be happy to have in your office. Epson has never been afraid to explore new and imaginative ways to benefit its consumers, and their office printer is one that teachers will appreciate.
Highlighted Features:
High-resolution color prints
Ink bottles are used instead of cartridges.
Each set may print a large number of pages.
Inks don't dry very fast.
Related to This Article