The Ultimate ParaPro Math Course (+FREE Worksheets & Tests)
The utmost inclusive course to help you do well when taking the ParaPro Math exam!
Seeking an online course that includes everything you need to get ready to take the ParaPro Math examination? Then, here you are!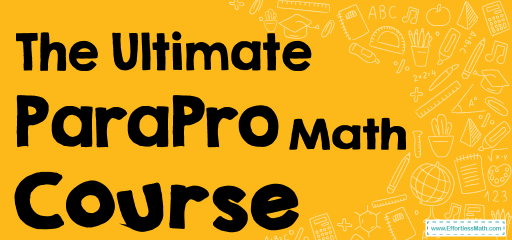 This course is free and includes all that's needed to ace every required math concept for the ParaPro Math exam. It's perfect and goes over every single topic and concept.
This course for the ParaPro Math exam is all you'll need to get a high score on the test.
The ParaPro Math Course, as well as additional Effortless Math Education assets, get utilized by multiple people taking the ParaPro exam annually.
It helps them go over the basics, as well as refresh their memory on math topics, and find out where they are weak or strong so they can attain a top exam score on test day.
Learn all this without a set schedule at your own speed. These lessons include notes, exercises, activities, and other kinds of examples, for assisting people in learning about and understanding all the required concepts.
There is also a FREE  
The Absolute Best Book to Ace the ParaPro Math Test
ParaPro Mathematics Complete Course
Algebraic Expressions
Equations and Inequalities
Linear Functions
Exponents and Radicals
Polynomials
Geometry and Solid Figures
Statistics and Probability
Functions
Take a FREE
Looking for the best resource to help you succeed on the ParaPro Math test?
The Best Book to Ace the ParaPro Test
More from Effortless Math for ParaPro Test …
Succeeding in the ParaPro math test seems difficult?
Do not worry, we will teach you how to pass the test: How to Prepare for the ParaPro Math Test?
studying not enough and need more practice?
ParaPro Math Practice Test Questions are the best option for further practice.
Has it always been difficult for you to memorize formulas?
With a list of essential formulas and practicing them you can easily memorize: ParaPro Math Formulas
The Perfect Prep Books for the ParaPro Math Test
Have any questions about the ParaPro Test?
Write your questions about the ParaPro or any other topics below and we'll reply!
Related to This Article