The Ultimate OAR Math Course (+FREE Worksheets)
A complete Online course to aid you in preparing to take the OAR Math exam.
Trying to find a comprehensive Online course that won't cost you a penny, yet will assist you in succeeding when you take the OAR Math exam? Then, you are in the right place.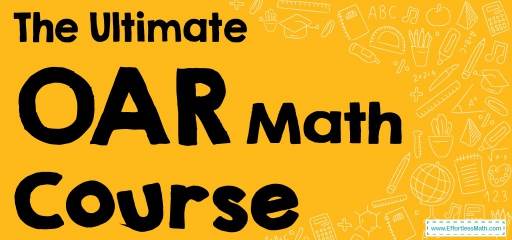 Do you require a comprehensive OAR Math course to assist you in learning every math concept needed to ace the exam? Look no more as you are on the correct site.
This course is perfect and will cover every topic for OAR Mathematics. 
It's the sole thing you'll ever require to get ready for taking the OAR Math exam.
This OAR Math course is utilized by many OAR exam-takers annually to assist them in going over the basic core materials, renewing their math knowledge, and finding their weaknesses and strong areas so they can gain the top score possible on the test.
There's no schedule, and you learn at your speed. The lessons contain examples, notes, activities, and other examples to assist pupils in learning and understanding all the needed concepts.
The Absolute Best Book to Ace the OAR Math Test!
OAR Math Complete Course
Fractions and Decimals
Real Numbers and Integers
Proportions, Ratios, and Percent
Algebraic Expressions
Equations and Inequalities
Linear Functions
Exponents and Radicals
Polynomials
Geometry and Solid Figures
Statistics and Probability
Looking for the best resource to help you succeed on the OAR Math test?
The Best Book to Ace the OAR Test
More from Effortless Math for OAR Test …
Need step-by-step instructions to show you how to prepare for the OAR math test?
Here's what you want !: How to Prepare for the OAR Math Test?
Do you think that the sample practice questions can greatly help you succeed in the OAR math test?
So why not try our free sample practice questions?: OAR Math FREE Sample Practice Questions
Do you prefer the self-study method to prepare for the OAR math test?
So you need to know the top OAR math websites to help you with this: Top 5 Free Websites for OAR Math Preparation
The Perfect Prep Books for the OAR Math Test
Have any questions about the OAR Test?
Write your questions about the OAR or any other topics below and we'll reply!
Related to This Article