5 Best CBEST Math Study Guides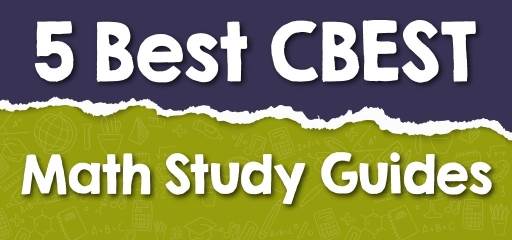 If you've found yourself here reading these words, chances are you're on a deliberate search rather than mindless meanderings of the internet.
You're also probably unimpressed by my subtle use of alliteration when saying 'mindless meanderings' because it's likely you're here to learn about math, not English.
You or someone you know is probably looking to take, and ace, the CBEST test, and you're therefore in need of the best study guide for the math section that you can get your hands on. If that's the case, then you're in the right place.

In this article, we'll explore the 5 best CBEST math study guides on the market today.
1- CBEST Math for Beginners: The Ultimate Step by Step Guide to Preparing for the CBEST Math Test
2- CBEST Math Full Study Guide: Comprehensive Review + Practice Tests + Online Resources
3- Princeton Review CBEST Prep, 4th Edition: 3 Practice Tests + Content Review + Strategies to Master the California Basic Educational Skills Test (Professional Test Preparation)
4- CBEST Prep Book: Study Guide and Practice Exam Questions for the California Basic Educational Skills Test
5- CBEST Math in 10 Days: The Most Effective CBEST Math Crash Course
CBEST Study Guides Comparison Table (2021)
The Best Book to Ace the CBEST Test
More from Effortless Math for CBEST Test…
Do you want to pass the CBEST math test successfully?
How do you Pass the CBEST Math is for those who aim for success!
Do you know what to do if you fail the CBEST test?
Read more about this in this article: How much does it Cost to Retake the CBEST Test?
Not sure about your skills to pass the CBEST math test?
Learn more about the type of skills needed for the CBEST test in the article What Skills Do I Need for The CBEST Math Test?
The Perfect Prep Books for the CBEST Math Test
Have any questions about the CBEST Test?
Write your questions about the CBEST or any other topics below and we'll reply!
Related to This Article