What if I Fail the CBEST Test?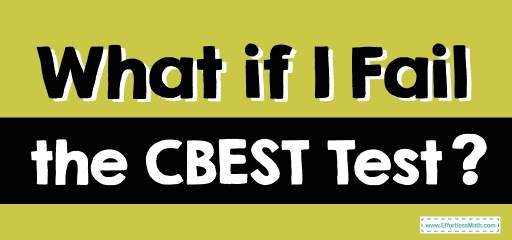 If you take the CBEST test, you may be stressed that if I will not pass the exam, what happens? Join us to answer this question.
The Absolute Best Book to Ace the CBEST Math Test
The California Basic Educational Skills Test or CBEST is a test that is given to those in Oregon and California who wish to become a teacher in a public school. The CBEST test divide into three sections, which include:
The score required to pass the CBEST test is 123. It is the sum of your total scores in all three subtests. Although the passing score of the subtest is 41, you can score up to 37 points in one or two subtests and still get an overall passing score. To do this, you must earn more points in the remaining subtest (s) to compensate for the points. You will pass CBEST as long as no sub-test score is below 37 and your total score is 123.
But what happens if you do not pass the CBEST test? You can retake any or all of these subtests as many times as you need to get a passing score. The only limitation is a waiting period after your last attempt – 45 days must pass before you can sit for any retakes. If you first registered to take all three subtests at the same time and only need to retake one or two subtests, you will still have to wait 45 days.
Looking for the best resources to help you or your student succeed on the CBEST test?
The Best Book to Ace the CBEST Test
More from Effortless Math for CBEST Test …
The CBEST exam is approaching and you are suffering from exam anxiety?
So Top 10 Tips to Overcome CBEST Math Anxiety is what you need.
What are the top 10 practice questions on the CBEST math test?
If this is a question in your mind, follow this article: Top 10 CBEST Math Practice Questions
To learn more about the CBEST math test, you need an overview of the test. We provide this overview here for a better understanding: Overview of the CBEST Mathematics Test
The Perfect Prep Books for the CBEST Math Test
Have any questions about the CBEST Test?
Write your questions about the CBEST or any other topics below and we'll reply!
Related to This Article