How to Pass the CBEST Test: A Step-By-Step Guide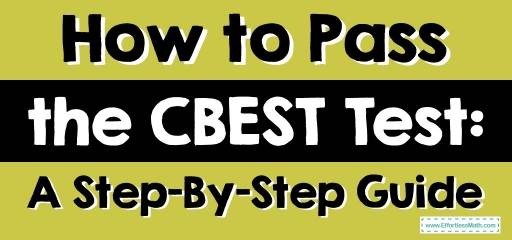 The CBEST is an exam that measures your aptitude for teaching. Passing this test will allow you to get a job in the field of education, but it can be difficult to prepare for on your own.
This blog post provides students with everything they need to know about how to pass the CBEST test!
The Absolute Best Book to Ace the CBEST Math Test
Tips on How to Pass the CBEST Test
Let's take a look at some tips on how to pass the CBEST Test.
Register For the Test Early
One of the best ways to learn how to pass CBEST is by registering for it early. The sooner you register, the more time you will have to prepare yourself and improve your score.
Take a Practice Test
How To Pass the CBEST test? Practicing taking a practice test! It's one thing to read about how other people passed this exam, but practicing while reading the material ensures that you retain all of the information necessary to get better at passing this test on your own accord.
Taking practice tests should be done over and over again until there are no mistakes or missed questions left because doing so can help ensure that you know what types of common errors students make when taking these exams (such as leaving answers blank or picking a random answer) and it can also help ensure that you understand the material.
Gather Test Preparation Material
There are many different types of test prep material that you can use to help get better at passing the CBEST. You may want to start with a study guide, practice questions, books about this exam, and more to ensure success on your first try.
A Comprehensive Bundle to Help you prepare for the CBEST Math Test
Identify the Skills You Will Be Tested On
You must know what skills will be tested on during the exam that you are taking. For example, if this is an English test then reading comprehension and writing skills may very well play a large part in your scores.
Rest Well Before the Exam and Get to the Exam Center Before Time
If you want to know how to pass the CBEST test, make sure that your sleep is restful and uninterrupted! If not, then it's possible that you will be too tired during this exam which can lead to a lower score.
Also, don't forget about getting there on time because once registration closes for the day then there won't be any more chances at taking this test that year if you arrive late or miss it entirely!
You'll also need an acceptable form of identification to take this test so bring something like a driver's license with you before coming down.
Read the Questions Carefully
When you are taking the CBEST test, make sure that you read each question carefully. Some questions will ask for very specific things so if there is any confusion about what they need then try to re-word your answer to get it right the first time around!
Avoid Negative Thinking And Stay Motivated!
One of the biggest problems people have when studying for exams is they begin to feel overwhelmed or defeated by their work before it has even begun because they think so negatively about all the time they have ahead of them to study.
It can help to take things one day at a time while keeping yourself motivated with positive thinking along the way until it finally becomes second nature after enough practice. Never give up hope early on or else you may find yourself not being able to prepare that well.
The Best Book to Ace the CBEST Test
More from Effortless Math for CBEST Test …
Do you find the CBEST test difficult?
Join us to answer your question: Is the CBEST Math Difficult?
Need information about the cost of the CBEST test?
How much does the CBEST Test Cost gives you complete information about the cost of the CBEST test?
Do you know about the 10 common CBEST test questions?
If you're not familiar with CBEST common questions, now is the time to get to know them: 10 Most Common CBEST Math Questions.
The Perfect Prep Books for the CBEST Math Test
Have any questions about the CBEST Test?
Write your questions about the CBEST or any other topics below and we'll reply!
Related to This Article