Is the CBEST Math Difficult?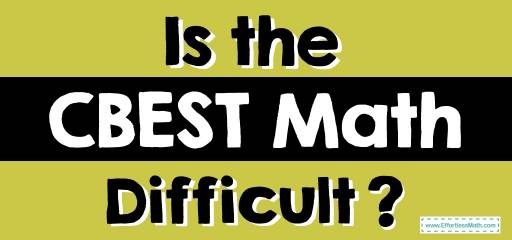 If you are preparing for the CBEST test, it may be important to know whether the math subtest is easy or not. We answered this question in this post. So be with us!
The Absolute Best Book to Ace the CBEST Math Test
The California Basic Educational Skills Test, or known as CBEST, is highly specialized. Taking the CBEST is one way to gain some of the credentials needed to succeed in obtaining a teaching license. The CBEST test consist of three parts:
The CBEST math includes 50 multiple-choice questions. You do not allow to use any type of calculator in the math section.
Passing the CBEST test is not easy because it's intended to make certain that prospective teachers in Oregon and California have the necessary skills to become credentialed teachers. The purpose of the math section of the CBEST is to challenge you to solve math problems, most of which are words. The CBEST math test not only assesses your ability to do various math functions and answer problems but also knows how to use math knowledge in an assortment of commonplace teaching situations. Many of the questions found in this test are only related to the concepts you learned in high school.
So we can conclude the math section of the CBEST test is not a difficult test, and you can succeed in this test with enough study and practice regularly.
Looking for the best resources to help you or your student succeed on the CBEST test?
The Best Book to Ace the CBEST Test
More from Effortless Math for CBEST Test …
Looking for the best CBEST math preparation books everywhere but still not finding the right one for your needs?
Do not worry! After reading the Top 10 CBEST Prep Books (Our 2022 Favorite Picks) you will find the book you are looking for!
Not sure if you are allowed to use the calculator on the CBEST math test?
We are here to answer your question: Is a Calculator Allowed on the CBEST Test?
Have you studied CBEST math content and now need a practice test to improve your skills?
FREE CBEST Math Practice Test is designed for more successful CBEST test takers.
The Perfect Prep Books for the CBEST Math Test
Have any questions about the CBEST Test?
Write your questions about the CBEST or any other topics below and we'll reply!
Related to This Article