What Does the CBEST Test Qualify You For?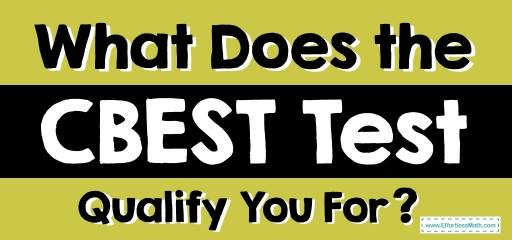 The CBEST stands for the California Basic Educational Skills Test. Candidates for a teaching credential or work as a substitute teacher must be accepted in this test. This test assesses whether a teacher candidate meets the state proficiency standards in the major subjects of mathematics, reading, and writing in English. CBEST does not assess whether you can teach those subjects to others. It just measures whether or not you satisfy the basic skills requirement in those subjects.
The Absolute Best Book to Ace the CBEST Math Test
The writing subtest includes two essays, while the math and reading subtests consist of 50 multiple-choice questions. The CBEST subtests hold on separate days or as a combined test. The test is available in computer-based and paper-based formats.
The CBEST scoring system awards between 20 and 80 points for each subtest. The passing score in a single CBEST section is 41, although candidates may score 37 in one or two sections and still pass if they score at least 123 points.
Preliminary results of the computer-based test are available immediately after the test. Official scores are published within 2 weeks of the test. Paper-based CBEST results are published within 3 weeks of the test.
If you do not pass the CBEST, you can retake any or all of these subtests as many times as you need to get a passing score. The only limit is the waiting time after your last attempt- 45 days must pass before you can sit for any retakes.
Looking for the best resources to help you or your student succeed on the CBEST test?
The Best Book to Ace the CBEST Test
More from Effortless Math for CBEST Test …
Have you heard that the CBEST test is difficult?
In the article Is the CBEST Math Difficult we will answer this common question.
You failed the CBEST exam and do not know what to do now?
What if I Fail the CBEST Test will help you get rid of the confusion.
Can't find the formulas for the CBEST math test anywhere?
We have listed the important formulas here: CBEST Math Formulas
The Perfect Prep Books for the CBEST Math Test
Have any questions about the CBEST Test?
Write your questions about the CBEST or any other topics below and we'll reply!
Related to This Article