How Do You Pass the CBEST Math?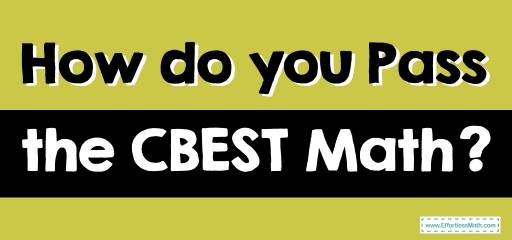 If you wish to become a teacher in California, you must first pass the CBEST to qualify for certification. This test measures potential teachers' talents in reading, writing, and math.
The CBEST math subtest consists of 50 multiple-choice questions. During the CBEST math test, test takers must perform the calculations themselves, meaning that they are not allowed to use the calculator on the CBEST math test.
Because you have to pass the CBEST math test to get a job as a teacher in California, how you perform for the math section is very important. Here are some tips to help you pass the CBEST. So join us!
The Absolute Best Book to Ace the CBEST Math Test
1- Read the questions carefully
Reading in math is essential! Be sure to read each question carefully and make sure what question is asked. Find out the keywords in the questions and underline them.
2- Use the multiple-choice format to your advantage
Because math subtests consist of multiple-choice questions, the correct answer will always face you – all you have to do is find it! On many math questions, you can use approximation skills to get you close enough to the right answer to be able to identify it among your options.
3- Answer every math question
CBEST is scored based on the number of math questions you answer correctly – there is no penalty for incorrect answers. So, make sure you respond to each math question to get the highest score possible!
4- Use the scratch paper
You cannot use the calculator in the CBEST math subtest, which means that all calculations must be done manually. To avoid stupid mistakes, use the scratch paper provided to you to solve the problems.
By following these tips, you can increase your score on the CBEST math test and pass it.
Looking for the best resources to help you or your student succeed on the CBEST test?
The Best Book to Ace the CBEST Test
More from Effortless Math for CBEST Test …
Do you know the best CBEST math study guides?
Here are the top 5 CBEST Math Study Guides that every CBEST test-taker should know.
Do you think your math skills are not enough for the CBEST test?
Read the article What Skills Do I Need for The CBEST Math Test to increase the information you need about the CBEST math skills.
Need a CBEST math course to teach you concise and useful material?
In this case, try The Ultimate CBEST Math Course (+ FREE Worksheets & Tests) which is the result of our team's efforts.
The Perfect Prep Books for the CBEST Math Test
Have any questions about the CBEST Test?
Write your questions about the CBEST or any other topics below and we'll reply!
Related to This Article