Is a Calculator Allowed on the CBEST Test?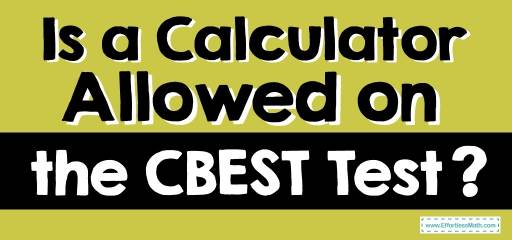 If you are preparing for the CBEST test, you want to know whether the use of the calculator is allowed or not? Join us to answer this question.
The Absolute Best Book to Ace the CBEST Math Test
The California Basic Educational Skills Test, or known as CBEST, is a test required for people who want to teach in public schools in California. The CBEST has three parts:
There are 50 multiple-choice questions in each reading and math section. Candidates have four hours to complete the test, and there is no time limit for each section. Depending on your local test site, you may take a paper-and-pencil test or a computer-based test.
The CBEST mathematics subtest does not allow any test-taker to use any type of calculator. It means that everyone who takes the CBEST mathematics subtest will need to perform calculations themselves. In addition to calculators, calculator watches, and other electronic devices like cell phones do not allow in the test area. There is no exception for participants in the CBEST test. A complete list of prohibited items is available through the CBEST test page on the California Commission on Teacher Credentialing (CTC) test website.
Individuals who register for each CBEST subtest, including the math test, will receive a booklet and pen to use answers during the testing process. Because test takers are not allowed to have a calculator in the test area, they must use this booklet when working with test questions to perform calculations manually.
Looking for the best resource to help you succeed on the CBEST Math test?
The Best Book to Ace the CBEST Test
More from Effortless Math for CBEST Test …
Are you going to improve your skills to take the CBEST math test?
Do not forget to use our CBEST sample practice questions: CBEST Math FREE Sample Practice Questions
Want to know more about your CBEST passing score?
What is a Passing Score on the CBEST Math is what you need to read.
What are the strategies for passing the CBEST math test?
If you do not know the answer to this question, join us in the article Top 10 Tips to ACE the CBEST Math Test.
The Perfect Prep Books for the CBEST Math Test
Have any questions about the CBEST Test?
Write your questions about the CBEST or any other topics below and we'll reply!
Related to This Article