What Is a Passing Score on the CBEST Math?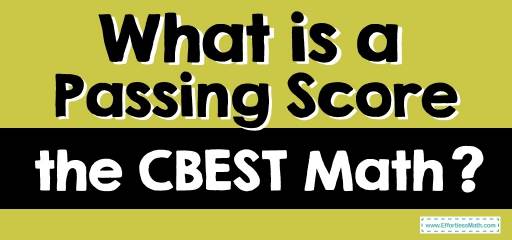 If you plan to complete a teacher credential program and teach in California, you must meet the state's basic skills required to qualify for a credential. For many people, taking and passing CBEST is a way to meet this need. Here is some information on how is the CBEST test scored and its passing score. So join us!
The Absolute Best Book to Ace the CBEST Math Test
CBEST stands for California Basic Educational Teaching Skills Test and must be passed to get a teaching credential or to work as a substitute teacher in the state. This test assesses whether a volunteer teacher meets the state proficiency standards in the major of mathematics, reading, and writing.
Each of the three CBEST sections – math, reading, and writing – has a passing score of 41. To pass the CBEST test combined score of 123 is required.
It is possible to pass the CBEST with a lower score on one or two of the subtests by fulfilling two conditions. The first condition is that they have a scaled score of 37 or more on every subtest. The second condition is that their total combined score reaches at least 123. It means that test-takers who score 37 to 40 on up to two subtests can still pass the CBEST if they earn a high enough score on their third subtest create a score difference, and bring up their total score to 123.
Looking for the best resources to help you or your student succeed on the CBEST test?
The Best Book to Ace the CBEST Test
More from Effortless Math for CBEST Test …
Do you want to waive the CBEST test?
If so, see Can the CBEST Test be Waived first!
Are you worried about the difficulty of the CBEST math test?
Is the CBEST Math Difficult addresses your concerns about this.
Do not know the steps and how to prepare for the CBEST math test?
We will help you prepare for the CBEST Math Test: How to Prepare for the CBEST Math Test?
The Perfect Prep Books for the CBEST Math Test
Have any questions about the CBEST Test?
Write your questions about the CBEST or any other topics below and we'll reply!
Related to This Article