Top 10 Tips to Overcome CBEST Math Anxiety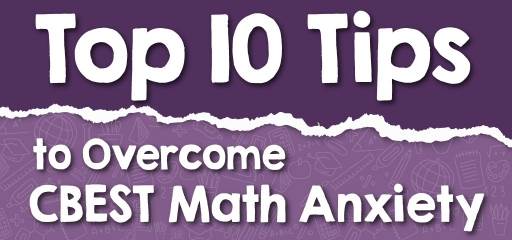 Math is not just something you have to learn, it's something you have to do – and the terrible fear you can't do is math anxiety. So how do you overcome that math anxiety? Unfortunately, there are no secret formulas, hidden answers, or magic equations. But there are some simple tips and strategies you can try today. So join us!
The Absolute Best Book to Ace the CBEST Math Test
1- Learn the CBEST test type
Even if you do not know what to expect in the CBEST math test, relaxation is even more difficult. See what kind of math questions there are in the CBEST test. Knowing the types of expected problems will help you not get nervous because you will be more prepared.
2- Have the basics covered
Most people do not understand the issue because they do not understand why certain steps or actions work. If you cover the principles of the topic properly, you will understand how each topic works. It also makes it easier to understand future issues.
3- Believe in yourself
If the rest can, why can't you pass the CBEST math? The first part confidently says you can do it. Trust me. You can.
4- Use your anxiety to focus
Some types of anxiety are helpful. Some studies have shown that better math performance has been associated with higher levels of physiological anxiety. Sometimes sweaty palms and rapid heartbeat may be associated with greater alertness and concentration than insufficiency and confusion. Admit that sometimes anxiety is right.
5- Work on math a little at a time
Instead of trying to gather information in a long study session, try to spend an hour each day on CBEST math problems. Continuous study reduces your math stress.
A Comprehensive Bundle to Help you prepare for the CBEST Math Test
6- Familiarity with stress management
Control stress and relaxation are some of the best ways to overcome CBEST math anxiety. With this method, you can overcome CBEST math anxiety and be able to focus on the things that make you happy. That way, you can meditate and take deep breaths that help calm your mind.
7- Cooperate with groups
Working with friends is a great way to overcome CBEST math anxiety. Each member of the group can learn from the other. Working in groups has been shown to help people overcome problems they may have alone.
8- Keep a positive attitude
Mathematics can be scary, but you can overcome your CBEST anxiety and frustration with a positive mindset. Changing your mindset about math can have an impact on how you feel about it.
9- Face your fears
If certain types of math questions in the CBEST test that scare you, you can face them during the study. It provides a safe space for getting questions wrong and helps you learn how to handle the questions better so that they are easier to answer during the actual exam.
10- Stay healthy
Taking care of yourself is very important when preparing for CBEST math. Get enough sleep, as sleep is important for your brain. Eat healthy food. Do not eat too much junk food and do not diet. Keep your food balanced and take time to rest and relax.
Finally, it is good to know that having a little stress is normal for CBEST math. To overcome this level of anxiety, you can use the topics listed and pass your CBEST math test. But if you feel that your math anxiety level has reached a level that cannot be controlled with the usual methods, you must consult a counselor in this field so that you can calmly take the CBEST math test.
Looking for the best resources to help you or your student succeed on the CBEST test?
The Best Book to Ace the CBEST Test
More from Effortless Math for CBEST Test …
Did not find the CBEST math worksheets that fit your needs?
No problem, we give you what you want here: CBEST Math Worksheets: FREE & Printable
Want to take the CBEST test but do not have comprehensive information about the CBEST math section?
We understand your needs and suggest studying the Overview of the CBEST Mathematics Test.
If you have used a lot of CBEST math practice questions and none of them have satisfied you, you can use the 10 Most Common CBEST Math Questions prepared by our outstanding experts.
The Perfect Prep Books for the CBEST Math Test
Have any questions about the CBEST Test?
Write your questions about the CBEST or any other topics below and we'll reply!
Related to This Article